Today saw the first
public screening of Guild Wars 2
, at GamesCom 2009. For the first time many thousands of fans have been able to see what has been keeping ArenaNet so busy... The tension and excitement mounted as those tuned in to the live stream watched Martin Kerstein step up on stage to introduce the trailer... but they weren't going to make it that easy for us. Executing the ultimate tease, they panned the camera away from the stage over to the crowd, and left it focused there for the duration of the screening! All we could see were hundreds of entranced faces staring intently towards the screen, followed by an eruption of applause and huge smiles. (It's good to see these months of hard work and secrecy have not put a dent in ArenaNet's sense of humor!) In retrospect it's only fair that those who managed to attend GamesCom see the trailer first, and we knew it would be hitting the website in glorious HD shortly afterwards. And yes, it was of the supreme level of quality we have come to expect from ArenaNet's art department, and the content was more impressive than any of us had expected. Even the optimists and the die-hard fans weren't sure if we would see actual gameplay footage so soon, but there it was in all it's splendour.
[caption id="" align="aligncenter" width="211" caption="Human Warrior from the Guild Wars 2 Trailer"]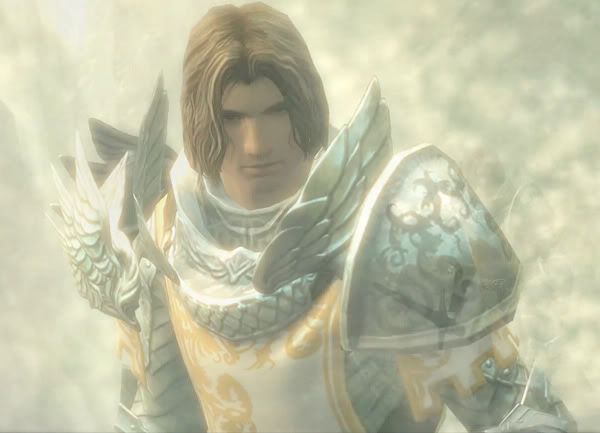 [/caption]
With all the excitement of the trailer it's easy to forget that today also marks something even more important: The true launch of the Guild Wars 2 community. The ArenaNet marketing machine has been put in gear, and over the next few months we are going to see a flood of new members joining our ranks. Yesterday we opened the doors to
Guild Wars 2 Guru
, and have already fostered a vibrant and friendly community. I know all of the staff here are excited to be a part of this venture, each playing their role in shaping the community, making it a pleasant and constructive environment. The feeling of being there at the start of a project like this is an incredible buzz: We are looking out over a long future of massive potential and opportunity, working with ArenaNet to provide a community you can really feel at home in. We are committed to that goal, and are throwing all of our experience and energy into it. We offer our thanks to ArenaNet for Guild Wars, the fantastic game that pulled all of us together. Now it's on to round two, and we are planning to match every step ArenaNet takes in pushing the boundaries of quality and innovation. If the game is going to be leaps and bounds ahead of the original then it only seems logical that the community should keep up. Particular thanks go to Regina Buenaobra and Martin Kerstein who have weathered their fair share of flack over the past few months, despite time and time again proving they are utterly committed and have the communities best interests at heart.
[caption id="" align="aligncenter" width="186" caption="Characters of various races gathered together in the Guild Wars 2 trailer."]
[/caption]
"I've been blown away by the superb GW2 trailer. Animated art is incredibly superior to CG and shows the wonders the Anet art team can do." - Fril Estelin
"It's totally incredibly awesome. I just had to call my gf to check it out after I watched. She is also blown away. 2 Collector's Editions waiting for preorder" -
MRKnoxville
"Watched the 1080p download version twice. I am in awe! The brief glimpses of the real gameplay world are breathtaking. The graphics engine rocks! Well done, ANet. This far more than I expected from a first trailer." -
wilebill
"Absolutely amazing, once again ANet prove they have some of the most talented artist in the industry working for them." -
Silent Coyote
Come and join us on the forum!
Thanks to [DE] for capturing some great stills from the trailer!
Back to Top