First of I'm going to tell you that I have now learned the basics of Norn tattoos AKA Celtic Knots (Woot!).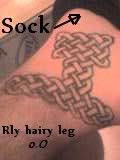 First one is on normal squared paper and the second is... em, freehand on my foot
The reason they look the same is cuz that is, in a way, what I'll get on my shoulder some day
But I am still nothing compared to Kekai
Anyways, enough about me, the real reason i make this thread is because I wonder how these tattoos will be implemented in gw2.
Do we get a gallary in character creation, like hair and face?
Will we be able to get a new one later on or will be be stuck with that one?
Can we put it were ever we want?
Will we be able to make our own? (conecting peices as I have in my pics)
If the norn get tattoos in char creation, what will the other races get?
Aaaaaaand, discuss!