The Dragoon Brotherhood



Website | Overview | Forums | Official Podcast

"Only a bad craftsman blames their tools"

---
Time Zone:
Europe
Classes:
All Welcome
Guild Focus:
PvP, Running Events, Building a Strong Community, All forms of Content
Website:
Yes
Forums:
Yes, with over 30,000 posts.
Ventrilo:
Yes, and required for key moments (mic not required).
Recruitment Status:
OPEN
════════════════════════════════════════════════════════════════════════════════​
Who are we?
The Dragoon Brotherhood was founded in the now closed MMO named The Matrix Online, and for six and a half years since then we have travelled MMOs aiming to create a strong community that not only works together and respects one another, but aims to be the best they can be. With this in mind we have established ourselves as a tight knit community, with very skilled players that not only aim to be the most dangerous men and women in PvP, but strong members of a family that has outlasted thousands of guilds.
When you join the Dragoons you will be part of a family that works together to not only have as much fun as possible, but to also prove ourselves as some of the greatest PvP'ers around, be it through dueling, WvW, or tournament PvP itself.
If you enjoy PvE or crafting then there will be plenty of members here who enjoy that also, as we prefer to explore everything the game has to offer.
What can you expect?
◙
A Guild that values YOU, for who you are, not your what gear you have.
◙
PvP as much as possible, from tournaments and events we host, to outright chaos!
◙
A tight-knit community void of drama.
◙
Gamers that can kick serious butt, but have a good time laughing while doing so.
◙
Experienced Leadership
◙
Organization that has been honed over 6.5 years.
◙
Unique events that will keep you entertained.
◙
All forms of content, from PvE runs, to dedicated crafting.
◙
A populated forums, active vent, and welcoming community.
════════════════════════════════════════════════════════════════════════════════​
Sounds awesome! How do I join?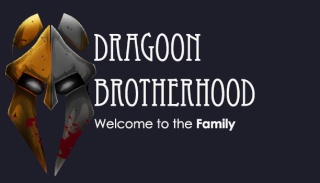 If you think this community is what you are looking for, I guarentee we will bring something unique and different you aren't used too. We will not only have as much fun as we possibly can, but we will do this in a drama-free atmosphere, which at the same time, isn't going a bunch of stiffs. If you wish to apply, please follow the following steps:-
1) Visit our
website
, and read through the tabs of information about us, particularly the Rules.
2) Once done, click the recruitment tab, and complete the application.
3) When you have completed the application, we shall respond as fast as humanly possible, certainly within 24 hours.
4) If we choose, we may need to ask further questions, please check back regularly to answer, or even arrange a time to get you in!
5) As a last word, we have lots of applications, and not everyone makes it. When handling applications there are many things we look for, please do not take it personally if we feel this guild is not right for you.
═════
Above all things we are just a bunch of gamers that like to have a good time and play hard. We are not huge, instead favouring quality over quantity, and we are not for all, but there are members that have been here for years and have frequently say there is nothing like us.
Don't settle for anything less, apply today, and be part of a Guild aiming to create a real legacy here in GW2!
TheHidden01
- Guild Master
Edited by TheHidden01, 08 June 2013 - 12:55 PM.