The original article is
here
; I took the liberty to distill it down to the TLDR version. All credit goes to Dulfy, author of the original.
1. Use Bandage when you're down
You can continue fighting when you're down with
three abilities that vary with your profession
. The fourth ability (on the extreme right), Bandage, is shared by all:
When you're in a group, it's a good idea to use Bandage to regen some health and avoid getting killed by the mobs' AoE attacks, for example.
If you drop to the Defeated state,
you can still be revived by other players to avoid waypoint costs
(edit: you will incur repair costs as soon as you are defeated. Thanks
Sharkinu
). The last resort, of course, is to rez at a nearby waypoint.
2. Turn on Auto-loot
Auto-loot is an option you can turn in in the options window. You still need to go near a sparkling corpse and press F to loot the corpse, but you don't get a disruptive pop-up box. Items magically go into your bags.
3. Turn on Fast-Cast Ground Targeting, or not
Usually, when you use a spell that requires you to target the ground, you are given a targeting reticle to place on the ground so there is a small delay there as you try to position the reticle. With this option enabled, the reticle no longer appears, and the location of your mouse cursor becomes the location where that particular spell is dropped.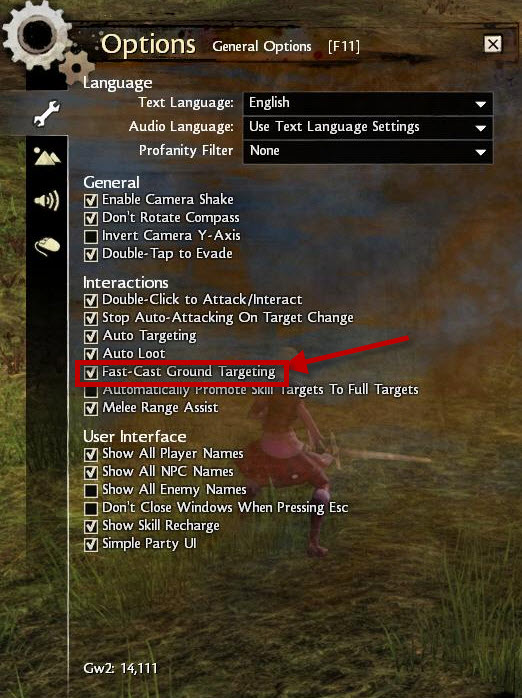 Personally I leave it off because it's easy to misfire important AoE abilities in the heat of combat with FCGT on.
4. Explore the world for rewards
Getting waypoints is important, not only for fast travel, but because they are your rez points as well.
Getting all the waypoints, tasks, skill ups and POIs on a map will grant you some stuff in the mail: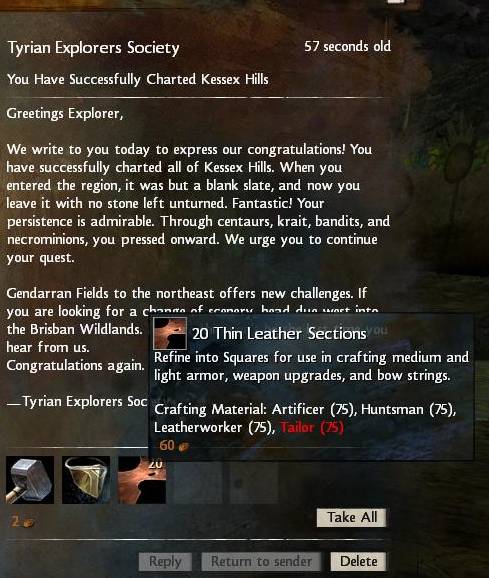 5. Check your mail for rewards
Everytime you finish a task for a NPC, you will receive a message in the mail. While most of it is just the NPC thanking you for helping them, you should check the bottom left corner of the mail as it often contains coins that you can simply press Take All to receive them!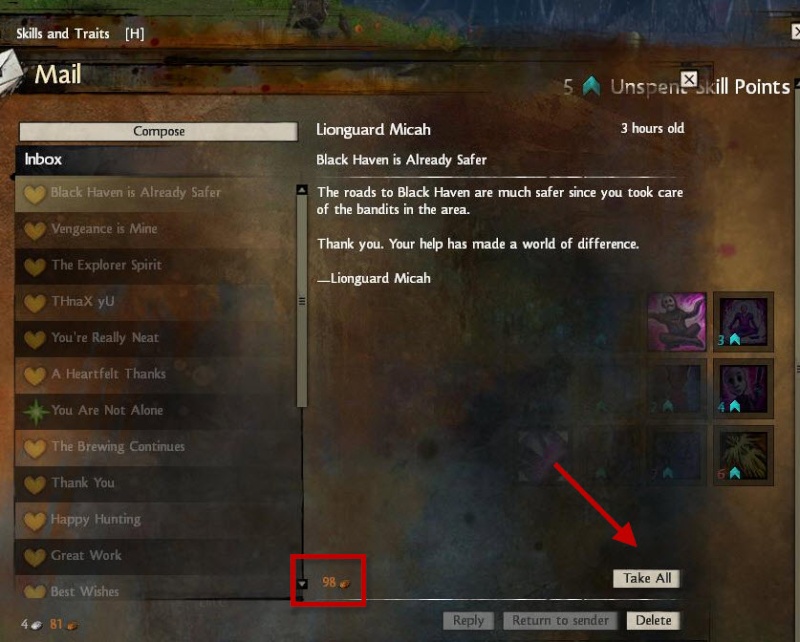 6. Join your friends in other cities
Press H and click on the PvP tab (bottom one, marked by crossed swords).
Click 'Be in the Mists' and you'll be instantly teleported to the PvP lobby. Run across to the other side to the next area called Hall of Memories.
Once you're there, go left and you will see a purple Asura gate. Going through the gate will bring you to Lion's Arch (The other blue gate will take you into WvW PvP).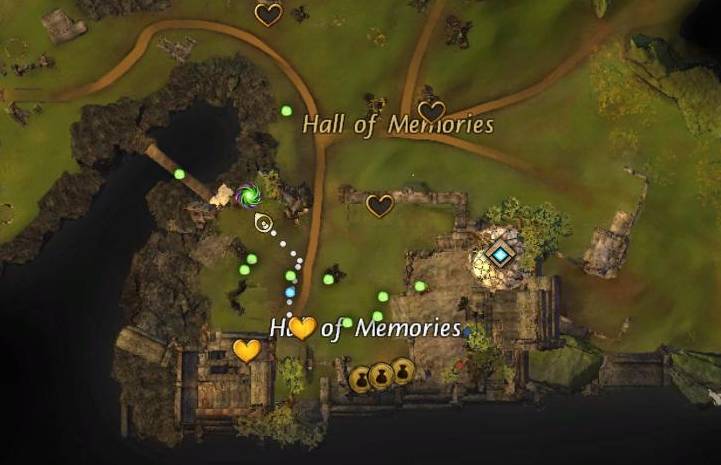 At Lion's Arch, head to the Grand Piazza and that should bring you to the Asura gates for the main cities for all the other races.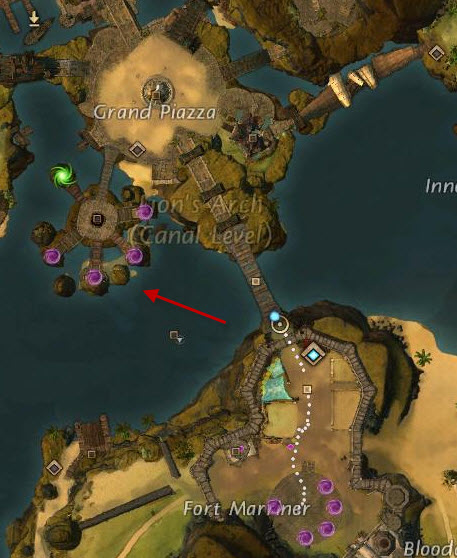 7
. Get your gathering tools
Resource nodes are specific to the player - if you have gathered from a node, that node will disappear for you but still be available for others. No need to fight for nodes.
There are three gathering tools available and you can equip all of them at once. These are the harvesting sickles, logging axes and mining picks. They come in stacks of 100 (axe and pick) or 50 (sickle) and gets used up over time as you gather things.
Gathering tools come in various tiers, you will need to upgrade to the next tier while gathering items in a high level area or you will get nothing but junk.
Merchants near the armor repair NPCs
usually sell them.
Sometimes you can score upgrades that can be used in the upgrade slot of your armor/weapons while gathering. This means that gathering is useful for non-crafters as well.
Other sources of gear upgrades, besides gathering, include crafting and quest rewards.
8. Salvage everything
Salvage kits can be used to break down old armor into mats.
They come in
different grades
, with
higher grades having a higher chance of obtaining rarer materials and keeping the upgrade components on the item
.
The crude and basic kits can be purchased from city and karma merchants. The basic kit has a 10% chance to obtain rare materials and 20% chance to recover upgrades.
9. Bank it instantly
Send mats to your bank by right clicking them and select the option Deposit Collectible.
The bank can be accessed at major cities, just look for the yellow icon with a bag inside it.
There are separate tabs for crafting materials and regular items so you don't have to worry about crafting mats clogging up your bank either! The bank is also shared account wide, giving easy access for all your characters.
10. Just mail it
You can't trade directly with other players
. Instead, you can simply mail the item to them! You can access your mailbox anywhere, anytime.
You can't mail stuff to your alts. Bank space, however, is account-wide.
Edited by Spenn, 05 May 2012 - 03:49 PM.