The Price of Nightmares
By
Shadyia
We have too much peace here, Celosia.

Funny I should think of the Firstborn's words in this dead place, where the trees are rotten and the water has no life in it. I miss birdsong. I miss fragrant flowers.

We have too much peace here, Celosia.

How can a people have too much of something so wonderful, so vital? Tomorrow, I will enter Adramelech, where thieves working for The Nightmare Court hid the Tablet. Little is known of this ancient Dwarf temple. Luminary Kahedins said that many human adventurers—warriors with swords and magicians with fire—have gone there over the centuries. They bring bags they hope to fill with treasure, and leave with broken hearts, their bags filled instead with the remains of their companions.

I need to sleep. I need all my faculties if I am to survive tomorrow. But I have so many questions. Why did Faolain, the Grand Duchess of the Nightmare Court, ask for me to retrieve the Tablet? The reason she stole it in the first place are clear enough to any who know her, but why send a letter to the Luminaries asking me to retrieve it? I came into the world just two years ago. How can I hope to survive a place where so many heroes have fallen? Folain could have asked for anyone—even Caithe herself—and they would have gone. No Sylvari could refuse anything where the Tablet is concerned.

We have too much peace here. Caithe told me that the night before I departed Arbor Bay. What does it mean?

I need to sleep. I must clear my thoughts. So many questions.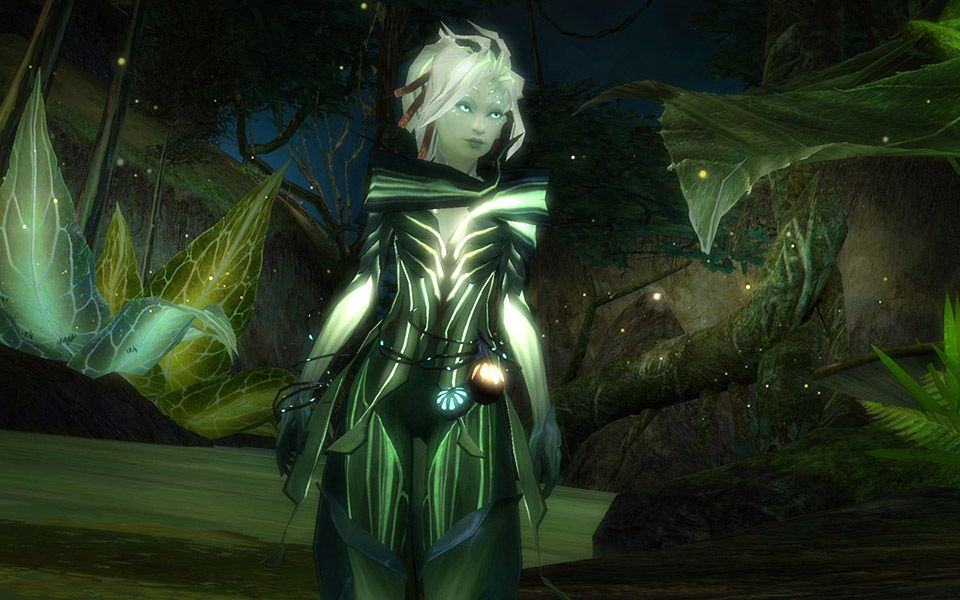 -------------------------------------------------------
Adramelech. I didn't know it would be so massive. Stone with hard angles, walls topped with battlements like teeth bared at the sky, towers like trees without branches. Kahedins once told us that Humans are trying to build something to reach the moon. I wonder if the Dwarves were trying to do the same thing. And why did a people so small need to live in something so big?




I amuse myself with these questions as I enter Adramelech, stepping between doors ten times my height. It keeps fear out of my mind. It is so cold, so still. The ceiling of the Great Hall beyond is lost in darkness, even though it is morning outside. I cannot imagine this place was built by mortal beings; mountain eagles could soar between these pillars and not feel restrained. I'm trembling. Is this what terror feels like?

Then I hear the last thing I ever expected.

Laughter.

Not wicked laughter, like the dark magicians in Kahedins's stories. Joyful laughter, the music of sunlight through trees. It echoes through the pillars, seeming to come from everywhere at once. I hear it again, closer this time, and stop dead in my tracks. I know this laughter all too well, but I have not heard in months. She can't be! Not here!

Her voice is suddenly behind me. "Hello Celosia!"

I pivot towards the hail and see the same purple eyes, the same mass of dark-red hair. She stands there, hands on hips, shoulders back, the way she always does.

"Leila?" I say. "No! No, this is a deception. Leila is dead."

"Dead?" she says, smiling like she did when caught stealing one of Alfie's biscuits. "Who told you thus?"

What was that Human's name? My mind is spinning.

"The man in armor, the one you went off with—"

"Rikker?"

"Yes," I say, remembering the terrible day when the Human Guardian returned to Arbor Bay. He looked magnificent, his armor in the sunlight, but the news he brought had stabbed me through the heart.




Leila laughs again. "Oh, he is such a prankster!"

"A what?" I ask.

"One who makes people believe something that is not true."

I feel my eyebrows gather. "He wept. There were tears on his cheeks." I had never seen a Human cry before. I had never seen anyone cry before.

"An excellent performance, I'm sure," she says. "Come now, do you trust his words or your own eyes?"

I look her over carefully. Her clothing is different; black—leather?—maybe. She has metal knives strapped to her hips. There are jeweled rings on her fingers. An elegant silver necklace winks at me with black gems.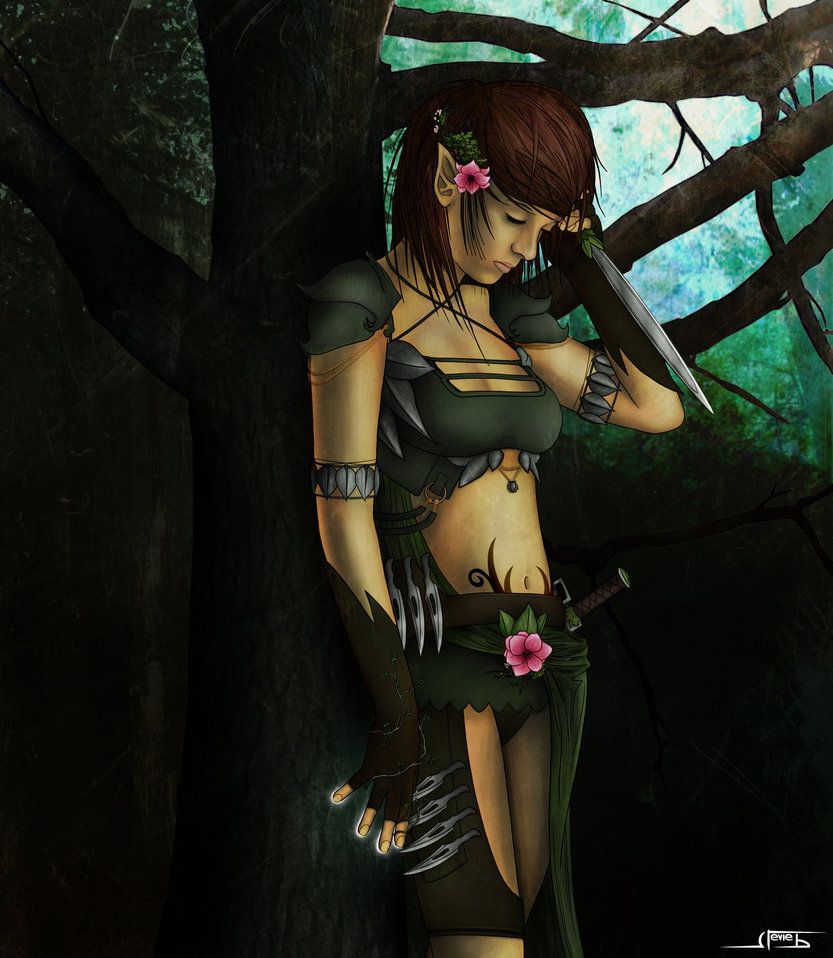 "If you are Leila," I say, "tell me of that night."

She looks down and bites her lower lip, then looks up at me. "There were two moons, one above us, one in the pool beside us. We had—borrowed—one of Kahedins's forbidden books and read it together. Then we made love like the ladies did in the stories. It was—"

"Wonderful," I said.

She comes to me and holds me. It is her scent. It is Leila.

"Where have you been?" I ask. "I missed you so much."

My eyes are blurry. I hadn't cried when Rikker told me she was dead. It was too impossible to believe.

She looks at me and softly wipes my cheek with a swipe of her thumb. "Come with me. I have so much to show you."

I hold my questions and follow. Leila takes me into an arched passage which ends at a staircase leading down into pitch darkness. She touches the end of her fingers together. When her hands part, a ball of blue light floats above her head.

"Where did you learn to do that?" I ask.

"You will learn it was well. Come!"

We go down, deeper and deeper. I shiver. The walls of the steps narrow until they scown my shoulders. My teeth chatter.

"Just a little longer," Leila says.

I hear slow-moving water ahead. We emerge into a chamber with a river flowing through its center. The place where the water emerges is blocked by an ancient grate, but it exits through a wide tunnel. Two huge statues of Dwarves stand at either side of the tunnel and cross battles axes above it. There is a narrow bridge arching over the river and I can see passages in the far wall, a big one in the middle and two smaller ones on the side. A graceful boat is tied up next to the bridge.

As if she had done this a hundred times, Leila hops into the boat and then offers her hand. I follow. What choice do I have? She unties the rope and uses a long pole to guide the boat between the Dwarf statues.

Lelia snorts. "Too bad they weren't that big when they lived."

The ball of blue light is still with us. I sit as the ceiling passes overhead. Leila sits on a stool at the stern and uses a rudder to guide us in the slow current.

"Leila—"

"Shhhhhh," she whispers. "There are things around here we don't want to wake. Don't worry, I am taking you to a safe place."

I hold my questions. We follow the current for long while; maybe two full turns of the glass. We pass through a few other rooms, but between high walls that offer no place to exit the boat. Three times the river splits, but each time Leila takes the right fork. At one point something scraps beneath the hull, moving against the current. I look back at Leila and see the tiller nearly knock from her hands. She grabs it, making an "O" with her lips, but otherwise does not seem concerned.

At last we emerge in a room where the river disappears beneath the wall. Leila navigates to a stone pier and ties the boat to it. There is only one exit, and I see light beyond, but not sunlight. We are far too deep in the ground for that.
Leila takes my hand and guides me along the passage. We emerge into a vast, natural cavern. The light is bright enough for me to see hundreds of stalagmites far above our heads. The ground is spongy soft. There is a fragrance in the air I cannot identify. I write these things so that others will know what I saw, but at that moment I could only gaze in wonder at what stood at the center of the cavern.

A tree. A pale tree.

It is much smaller than our Mother Tree on the Tarnished Coast, but I cannot mistake the shape of its branches, the silvery light that radiates from within. My knees can no longer hold and I sit on the soft ground. Leila sits next to me.

"How?" is all I can say.

"We found the cave where Ronan had gone all those years ago. Seven of us died, but we managed to take a seed. We have spent ten years growing Her."

"Ten years," I say, looking at Leila. "But you are the same age as I."

She clicks her tongue. "Well, not me, silly, but we—my brothers and sisters."

Suddenly it becomes clear to me. I guess I knew it all along, but I didn't allow the thought to enter my mind.

"You joined the Nightmare Court," I say.

Leila smiles and nods.

Terror rises in me, almost becoming panic. I stand, brushing the moss from my trousers. "I have to get out of here!"

"Without your tablet?" Leila says.

I'm trapped. Really trapped. Not just by her words, but by this place. How would I ever get to the surface again? She comes to me. I wince as she touches my shoulders.

"Look at me," she says. "I am Leila. I am your friend. Do you believe that?"

I am like a girl drowning in a lake, grabbing a rope. I nod.

She continues. "Forget all the lies the Luminary have told you."

"I can't forget," I say. They are silly words, but it's all I can think of.

Leila laughs. "Of course, forgive me," she says, taking my hand and guiding me closer to the tree. "Come! I want to show you something."

We pass beneath the branches. With each step, a black liquid wells up under my shoes, staining the leather. A terrible smell assaults my nose, like wet warthog, only worse. Leila takes me to the far side of the tree and there I see him.

It's Rikker, the Human Guardian.

I know this because I can see his face, but I don't understand what has happened. He looks like he is trying to climb the tree, but with his back to it. His head hangs forward, his lids are closed. He is wearing only dirty trousers. As I step closer and look up, I see that his wrists and shins are nailed to the trunk with metal spikes.
I stand there, confused. It's as if my eyes are telling my mind something it refuses to believe.

"What is this?" I finally say. "What happened?"

Instead of answering, Leila picks up something that looks like a dead snake. She uncoils it, holding it by the end. With shocking speed, she lifts her hand above her head and brings it down, making a loud crack! A red mark appears on Rikker's stomach.

"Stop that!" I cry out.

"Why?" Leila says, laughing. "Do you want to try?"

"No!" I practically scream.

I hear a faint moan above me and look up. He's alive! The Human actually lives!

"Oh Leila, what have you done? How could you do this?"

Leila clicks her tongue. "How can you not?" she says. "He lied to you, Celosia! He told you I was dead. How did you feel when he said that?"

I reach into my mind, trying to remember that day. I don't know why. Maybe to help me escape this terrible moment.

"I felt numb," I whisper. "It was too much to accept. Nothing was the same after that. I could not feel the sun on my skin. Nothing tasted good."

Leila bobbed her head. "Rikker is the cause of all that," she says, offering me the whip.

I step back. "No! I won't!"

She casts the whip at my feet. "Do you know what he did to me? To all of us? Jash, Nisha, Violet? White Mantle cultists attacked us in the ruins of Denravi. We fought, but there were so many of them. Rikker told us to run, that he would hold them off. We ran through passages and rooms, but were caught. They tortured us for days. Days! The Nightmare Court rescued me, healed my wounds. Helped me to forget what…what the cultists did."

She turns her back to me. I step forward and touch her shoulder.

"Weeks later, when I was strong enough, they took me to a clearing in a forest. Rikker was there, sitting, laughing with his new friends. I felt so much rage. So much hate. It made me strong. We captured them all."

I look up at the Human. His eyes are open. He tries to shake his head.

"I'm sorry," I say to him, but Leila thinks I am speaking to her.

"I'm not," she says, facing me. "I was created again on that day. I am trying to do the same for you, but I don't want you to suffer as I did."

Numbness comes over me, the same as when Rikker told me Leila was dead.

"You have fallen into darkness, my love," I say. "You are…" –I search for the word and it comes to my lips with shocking ease. "—evil."

Leila laughs. "Evil?" she says. "You don't even know what evil is! Shall I tell you?"

I shrug my shoulder. Why not? Nothing matters now.

There is a glint in Leila's eyes as she speaks. "Evil is freedom! The ultimate freedom!
Freedom from the chains of morality. Freedom from weakness and fear. My new brothers and sisters have shown me this freedom, and it is wonderful!"

"And so you live in a cave under the ground and torcher a brave man who tried to help you escape."

"We didn't escape!" she screams at me.

"I remember your words," I say gently. "And I don't know how he avoided capture when you and the others did not. But I remember that day he told me you had died. He didn't tell us how. He wouldn't. But I remember how he wept."

Leila sneers. "A fine performance."

"I don't think so," I say.

She turns her back to me again. "Go," she says. "Your precious tablet is over there. Take it and go!"

I look where she is pointing. The Tablet is leaning on a far rock, but I feel no joy at seeing it.

"I cannot leave this place without your help," I say. "Come with me. Come home."

She rounds on me, her hands in tight fists. "I am home!"

"You have been twisted by Nightmares," I say. "Please, let me help you. I cannot lose you again. I need you, please. Come with me."

The glint leaves her eyes, the rage drains from her face. "I cannot go back. You won't forgive me. No one will."

I want to lie to her, to tell her everything will be as it once was, but I won't do that to her. Lies are the domain of Nightmares.

"I don't know," I say. "It will take time. You will need to atone for what you have done. When you have, maybe the others will accept you again. In any case, I will be there at your side."

"You won't leave me?"

"I never have and I never will."

Sobbing, she moves to embrace me—and a sword blade pierces her chest from behind. Her face fills with shock. Behind her, Caithe appears and pulls free her sword. I look around, suddenly aware there are others. Luminary Naimh is there as well as several of her Wardens. My mind can only acknowledge these things as fact. Leila drops to her knees and looks up at me. Her last expression is betrayal before she falls over.

Them I am screaming. I try to go to her, to hold her, but someone has grabbed me from behind.

"Get her out of here!" I hear Caithe command.

I lash out with my fists. My arms are pinned behind my back as I am pulled to the passage Leila and I had walked through. I see Niamh and two of her Wardens retrieve the Tablet. I see Caithe look up at Rikker. She touches his leg and then drops her hand. We are all gathered at the passage when she approaches.

"Burn it," Caithe says.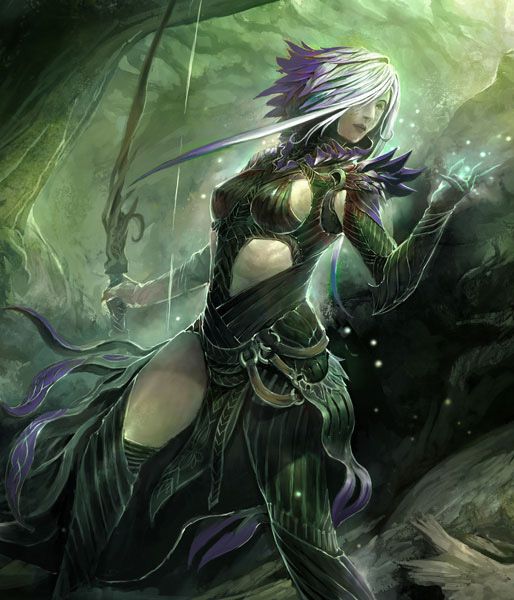 Three Warden Elementalists surround the tree, staying a hundred paces back. Fire erupts from their hands.

"No!" I scream. "We can't just leave her!"

They let loose a torrent of flames into the branches. The tree sways as if in a storm. A round opening appears in the trunk. I see white spikes around its edge, pointing inwards. A powerful wail emanates from the hole. The ground shakes, almost knocking us over. Stalagmites fall from the cavern ceiling. One nearly strikes an Elementalist, but his companion hurls a bolt of energy which shatters it into pebbles. At last, the branches of the pale tree catch fire and burn, its silvery light dims as its bark turns black. Thick, acrid smoke fills the cavern, but the Wardens do not stop until the tree is completely destroyed.

I don't remember much after that. I don't remember how we escaped Adramelech or how we got back to Arbor Bay. There was a battle, I think. Some of the Nightmare Court attacked us, but Caithe, Niamh and the Wardens drove them off.
I do remember Caithe telling me that Leila had a small knife in her hand, that she had intended to cut my throat when I went to embrace her. I don't believe it. I don't think Caithe was lying to me, she was just mistaken.

I look out over the sea as I finish. It's not just the dragons we should fear, but all that is evil rising up to welcome them. I understand now a part of why we, the Sylvari, were created. We are born into this beautiful, peaceful place so that we have something for which to fight. The world beyond our Mother Tree is plagued with death and corruption, but it is also enlightened by bravery and devotion. If we are to survive, we must unite with heroes of other lands. No longer can we dance in the sunlight and hope the evil of this word will just fade away. We must learn to march to the beat of drums. We must learn to master the art of war. To do anything less is an affront to life.

We have too much peace here.
Edited by ShadyiaTSW, 17 June 2012 - 06:48 AM.