Basically what happens is that my monitor will turn off and not even emit any sound after running GW2. The comptuer is still on, just the monitor will stop responding. This only happens when I stop dedicating one of my GPU's to physx, enabling multi-gpu. Here is my rig:
Win 7 64 bit
Ram: 12 GB
CPU: Intel® Core™ i7-960 3.20 GHz 8M Intel Smart Cache LGA1366
GPU: NVIDIA GeForce GTX 590 Dual GPU SLI 3GB 16X PCIe Video Card
POWERSUPPLY: 1,000 Watts - Corsair HX1000W 80 Plus Power Supply - Quad SLI Ready
Basically what happens is when I force one GPU ,specifically B, to run dedicated Physx, then I can boot up the game and play it no problem. Though if I choose auto select, CPU, or (A), then my monitor will crash at a certain point and I'll have to do a hard reset. Also this is all under the condition that I have V-sync turned on, otherwise no matter what GPU or CPU uses my monitor will crash.
Anyway, what I'm looking to find is a way that I can enable multi-gpu, otherwise I have to dedicate one of them, gimping my comptuer's performance. If any additional information is required just tell me how I can provide it and I will. Also, this happens in multiple games, not just GW2.
Edit: Some screenies of GPU-Z with GW2 running in the background (login screen). Also this is with one gpu dedicated to physx.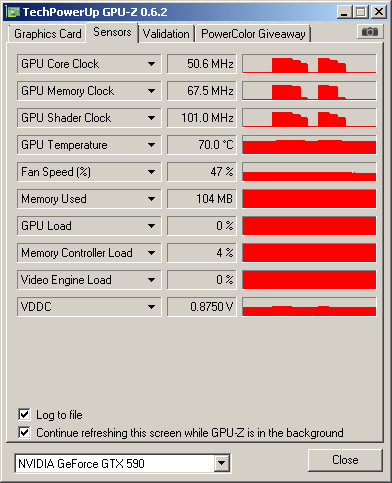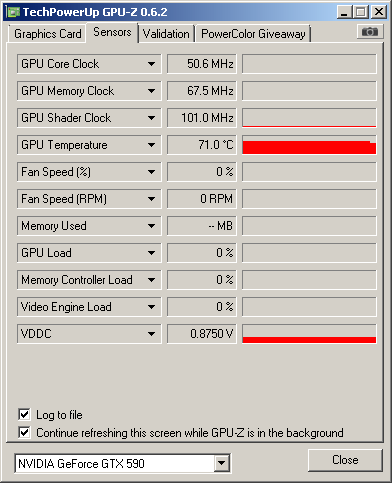 Edit: I'm not sure but I think I found out what was causing the crash. After allowing both my GPU's to run and looking at the "Graphics card" tab in GPU-Z I saw Cuda and Physx were not able to run on this setup. So I disabled the settings in my nvidia control panel to use both GPUs for CUDA, also disabling Physx, and so far after opening Tribes Ascend, a game that would normally cause me to crash after running multi-gpu, I haven't crashed yet.Edit2: Ok, turns out it still crashed lol, but at least it was later then usual and not at the login screen. Gw2 also works fine at the login screen. I have some logs from GPU-Z that I dont want to post becuase they are too long and I dont know how to mark things as spoilers.
Though the things that stand out the most to me in there are that my GPU load is always 0%, aswell as my fan speed. Also my GPU clock speed spiked 2 seconds before the crash, then plummeted.
Also:
I'm really starting to feel like that dog.
Edited by Ayanami rei, 22 June 2012 - 12:53 AM.