(Updated 10/10/13 - Ver.3.0. Includes G13 (x3) & G600 preloaded profiles, and a completely reorganized command bar and guide located below the pictures.)

Welcome to this guide on the Logitech's G Series line up.
This guide is focused on the G13 Game Board & G600 Mouse, however acquiring and Importing my file will allow any Logitech G Series device supported by the Logitech Gaming Software to be compatible with my provided list of commands.

This will save any G Series user a lot of time as I have filled the command bar with

all In game default controls

so all you have to do is either drag and drop commands on buttons as you see fit, or play with the profile I created. I will provide some pictures and a guide for those of you who are newer to using the software.
If you're a fast learner then skip down to command bar guide.
​Elaboration - ( No seriously people have a hard time with this) - Logitech Gaming Software Command Bars are universal regardless of what item they were created for as long as the G Series Logitech Software can see the keyboard or mouse your are currently using, you will be able to use these commands. So... no matter what using my command list will save you time. If you own either a G13 or G600 these profiles below will be readily available as soon as you import this file. (Importing explained below) For other G series items you will need to drag and drop commands from the bar on the left on to your keyboards or mouse buttons as YOU see fit.
The Command Bar has been recently streamlined into categories as follows:
C.F. -
Combat functions
F.
- Deals with functions that are neither U.I, Movement, or Skills.
M.
- Movement associated commands
M.F. -
Map related f
unctions
P. -
Profession Skills
U. -
Utility Skills
U.I.
-
Black Lion, Panes, Maps, Options.
W. -
Weapon Skills & Weapon Utilities
----------------------------------------------------------------
G13 - M1. -
Joy Stick Movement ( Universal )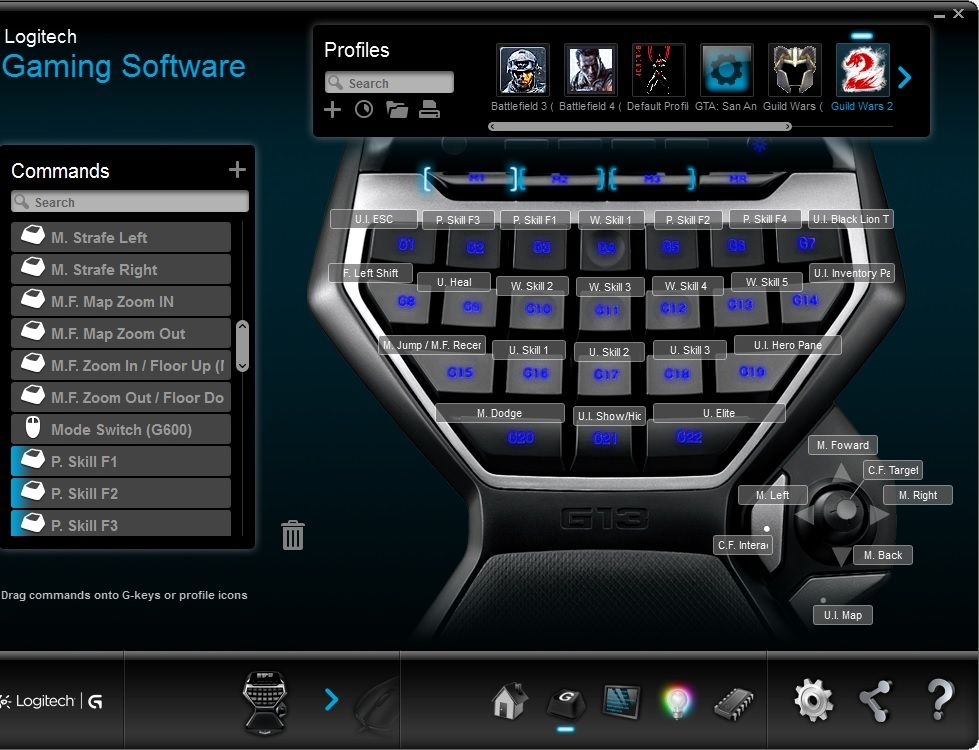 G13 -
M2. -
WASD Movement ( Melee )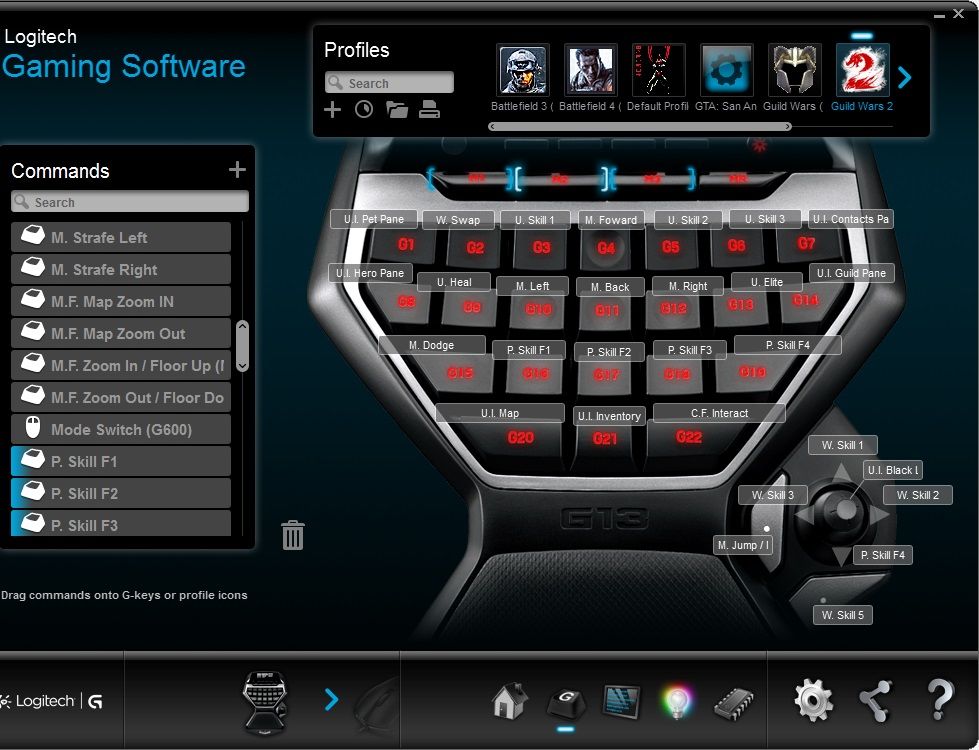 G13 -
M3.
-
WASD Movement ( Caster )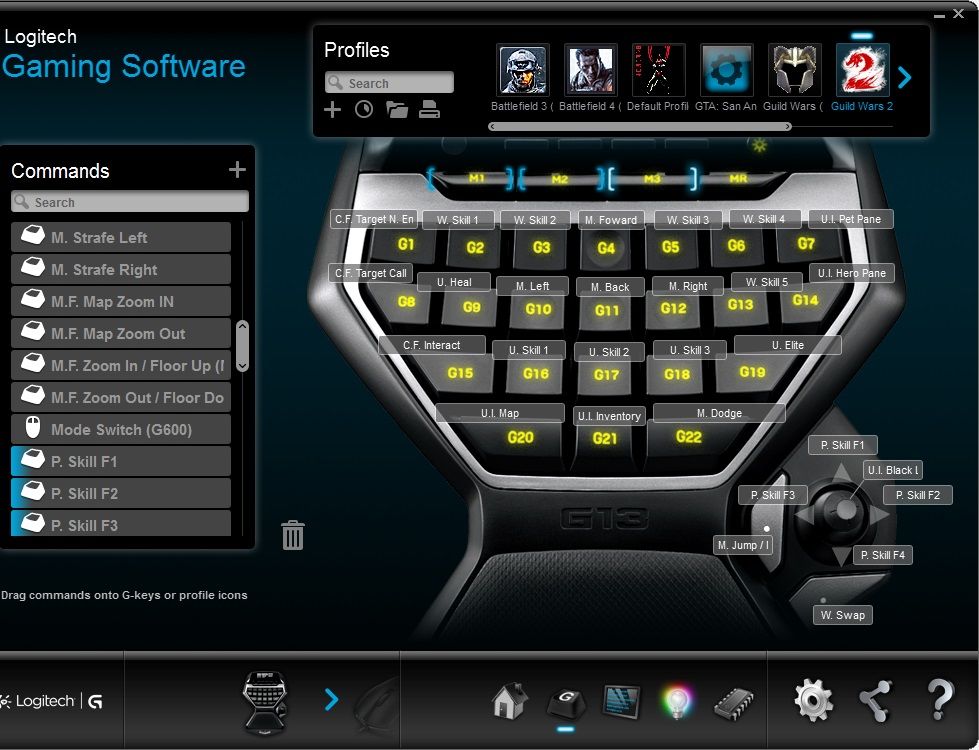 G600 -
Default
G600 -
GShift
----------------------------------------------------------------
What

is it?



The Logitech G13 is a stand alone gaming keyboard with 25 programmable keys (x3), It comes with easy to use software which allows sharing of profile's or load outs through .XML file extensions. Personally I don't play many games with out my G13, between the LCD Screen, creating Macro's on the fly, and being able to use your own load out where ever you go, this thing is worth the bang for the buck. However many people either cant deal with the learning curve or don't use the software correctly and don't know where to start then proceed to simply dismiss many features as useless. The key feature's are listed on logitech's main site. I will provide some extra info at the bottom.

Now that I've explained a little about the G13 lets move on to the good stuff.




How to give

& Get Files. (File Size Is Less Then 50KB)



Simply download the file Here. After your download is done open your Logitech Gaming Software click on the keyboard area of your G13, look for the folder in the profile bar, click and then hit Import on the drop down menu, a window will open up find my file that you downloaded and saved, click on it, and everything should pop up nice and easy. You can make your modifications or jump right into game.

Also you can do the reverse to share your profile by saving, then going back to the folder on the profile bar and hitting export on the drop down menu, using a free upload website like media fire find the file and upload it. The website will give you a link so post and share.




Updating

Is Important!



If your having problems Importing make sure your Logitech Software is up to date they periodicity update and if you have the original packaged software it does not allow you to get and give profiles in .XML file extensions.

After one update then its super easy. Just hover over the ? on your software panel and go to check for updates. Super simple. I'd check once a month just to be sure.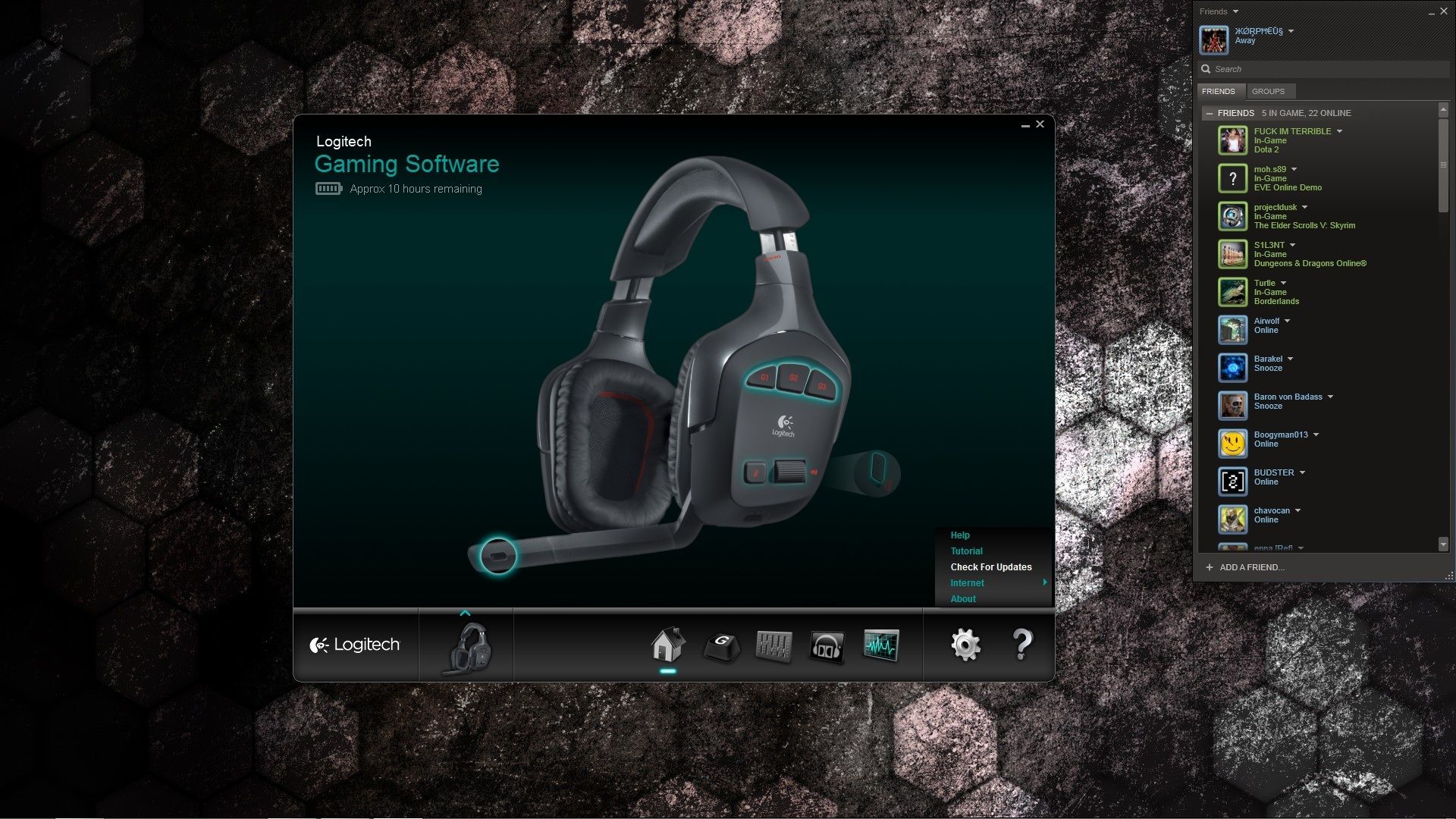 Fair Warning

on Macro Creation



Logitech's software makes macros very very easy. You should be cautious about what your macroing and how often you use it. Below is a QUOTE on what Anet has stated about macros.

"

Macros





Guild Wars 2 players are permitted to use macros as long as the macros are programmed with a 1 key for 1 function protocol.
This means that if you program a macro, it must require one keystroke per action. You may not program a single key to perform multiple functions.
For example, if you Press A and it results in the casting of a single skill, you're ok. If you Press A and it casts multiple spells, you're not ok.
You cannot program a macro to performs the same or multiple actions on more than one account at a time.
You cannot program an "auto-clicker" macro that, for instance, opens chests while you play elsewhere.
Dual- or Multi-Boxing
You may use more than one account at the same time.
You may use more than one computer at the same time.
You must be actively playing on each account.
And as stated above, you may not program your keyboard to perform functions on more than one account at a time.
For example, if you press W on your keyboard to move forward, a single character on a single account should move forward. The keystroke or mouse click should not perform functions on more than one account."
ADDITIONAL
INFO:
*****You may have to locate your game file (In properties) for the G13 to automatically choose the profile on games launch.

****Some Logitech gaming products (I.E. G600) require you slide over the detection to "Automatic Game Detection" so that you can use my command bar to drag and drop commands on buttons.

***There are many commands inside the command bar which are not used in my profile because I focused on combat. I encourage you to mess around with the options that are there.

**Fast Ground Casting, and Auto Targeting Options are your friends in Guild Wars 2, use them. I Mostly focused on different utilization of the joystick on each profile. Either movement or skills rotate throughout the three and all are on the one file so you can switch between them easily and quickly, learn what you like best and then adjust as you see fit.

*I DO NOT ENDORSE CHEATING OR BOTTING IN ANY WAY.
If you want to share my profile, instead share this pages URL, old files can go into private status which means they cannot be downloaded. This is the only place to receive updates.

Download the most updated file: Ver.3.0.
G13 Main Site: http://www.logitech....rd/devices/5123
Useful LCD App List Here: http://en.wikipedia....ki/Logitech_G15

I Have done G13 Profiles for many other games and have gotten over 60,000 downloads across various profiles please PM me if you need help or want to make a special request.
Good Luck Everyone.
Enjoy!
Edited by Y A J U U, 11 October 2013 - 06:38 PM.