UPDATE 18/9:

Added tooltips to weapon skills. adding tooltips to utilities soon.

Hey there fellow and prospective Elementalists! I'm writing this guide to help people who are looking at the Elementalist and arent sure its for them, and to help people already playing Elementalists gain some more knowledge of the Profession.I've been following GW2 since 2009, and knew right from the get-go I wanted to play this Profession. I've played all but 5 hours across all of the Beta Weekends and Stress tests on my Elementalist.
Im totally passionate about the Elementalist, and im hoping to share that passion with you all!I am a PvPer, and so this guide does reflect that. I will however quite happily add PvP or PvE sections that readers feel they can contribute. Feel free to shoot me a PM.I will be updating this Guide post release, and there may be sections of this writeup that may not be released yet, due to...the game not being out yet!That said, I look after my grandfather full time, work part time, and try and get lots of time playing games (Especially GW2 when its released!). If I dont get back to you right away, its likely Im just busy with real life.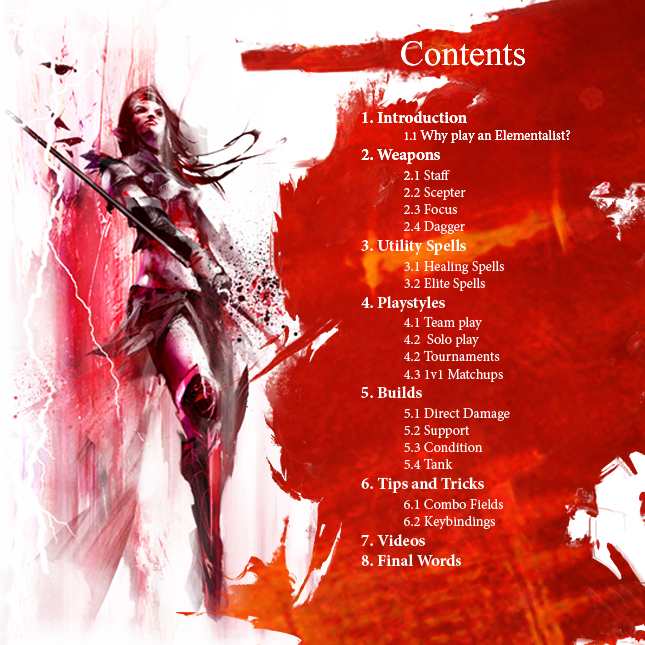 Elementalists are multi-faceted spellcasters that channel elemental forces, making fire, air, earth, and water do their bidding. What they lack in physical toughness, they make up in versatility and the ability to inflict massive damage in a single attack. The Elementalist is a Scholar Profession and wears light armor.
I will be using a variety of symbols to help you quite identify what a spell does. Lets looks at these now and what they mean. If you arent Familiar with any of these, you can click on the link to learn more.
Area Of Effect or AoE
Cross Profession Combo Field
Cross Profession Combo Finisher
Quite alot to remember huh? You can always refer back to here if you arent sure what a symbol i've used is!



Elementalists are the masters of versatility. With every weapon setup providing 20 spells, we have a huge arsenal at our disposal. With such a wide variety of spells, we can easily adapt our playstyle to suit any situation. We have the ability to deal scorching burst damage, crippling condition damage and powerful support spells. This profession can do more than any other!

If you're looking for a class that is quite hard to master, and has a huge potential to outplay any opponent, you cant not try the Elementalist. Through we often need to put in a bit of effort to get out what other classes seem to do with ease don't be fooled into thinking we're not powerful. When played with the right hands, the Elementalist truly becomes the master of the battlefield.

Be cautious when making your own build. The Elementalist is the class with the least Vitality and Armor. You will need some form of defensive stats if you are to have any hope of being competitive.

Central to the success of the Elementalist is the Attunement mechanic. With this we can swap between powerful elemental attunements, which change our weapon abilities.
Initally this mechanic can seem quite complicated, but don't let that put you off. It is this mechanic that is the pivotal force behind our versatility, and why the Elementalist is such a joy to play.

Each attunement focuses on different types of abilities. Here is a brief outline of the four atttunements;


Fire Attunement
Fire Focuses primarily on
Area Of Effect damage. It is also often the source of our burst damage skills. Fire also provides us with access to
Burning and
Might.


Water Attunement
Water focuses primarily on
Healing and Condition Removal. It also allows us to use abilities make our foes
Chilled and give us
Regeneration.


Air Attunement
Air focuses on single target damage and mobility. It'll allow us to use
Swiftness and
Blind .


Earth Attunement
Earth focuses on slightly more defensive spells (though this isn't a rule), and provides us with the ability to
Bleed our target and provide ourselves with
Protection.
If you arent sure which of these Attunements is best for you, or want tips or info on how to maximise your Attunement Swapping, check out the Combos and Playstyles Section further down.
Edited by Anlyon Spellrage, 18 September 2012 - 04:20 PM.