She'll rise again, y'all.
I don't know if anyone else has noticed, but in ten days the servers will go up. And:
It's going to be an extremely disorganized mess and it will be hard to recognize anyone from our own community due to the amount of servers. There I am making a list with names of Guru members (in Europe), who are going to play this weekend during the headstart and onward, and who don't mind meeting up with other (European) members of GW2Guru.
I propose using the same server that we played on during the Beta Weekend Events, which is Gandara (English), as it had a very high population during the Beta but this may no longer be the case on launch. If it's still getting hammered however, we may switch to a different server.
Same rules as before:
If you are interested, leave a comment below with what is likely to be the name of your (main) character (I may not update the list immediately but I'll try to keep it as up to date as possible. In case your name is taken or if you changed your mind let me know.
Guild
Everyone on the list will be invited to the GW2Guru EU Guild. I will start up the Guild, but don't expect the Guild to be up until ~ 9.00 AM CET. The Guild will once again be called
"Blood and Guru"
(reference to the term
"blood and gore"
), the tag will be
"BaG"
this time around. Rennok has offered to assist me in managing the Guild.
Chat
C3 seems to be about as good as TeamSpeak 3, and it's free! So now we're using C3, and if you want know how to use it. But since the GW2guru administrators have been so kind to setup a Mumble Server for GW2Guru, we're using Mumble for now:
[spoil]
Our server info is:
Server address: mumble.irexistus.com
Server port: 64763
Server password: bloodandgore

To set up mumble:

[

b]Step 1: Go to mumble.sourceforge.net[/b]




Step 2: Click on the version that corresponds with your OS.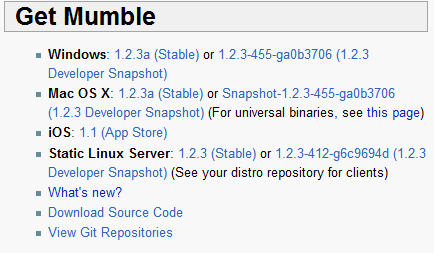 Step 3: Launch mumble and go through the audio wizard that is presented to you on start-up. Make sure you use Push-to-talk to avoid unintentional mic-spamming.

Step 4: Press Server -> Connect.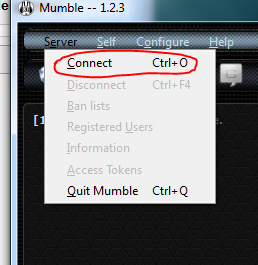 Step 5: Click "add new".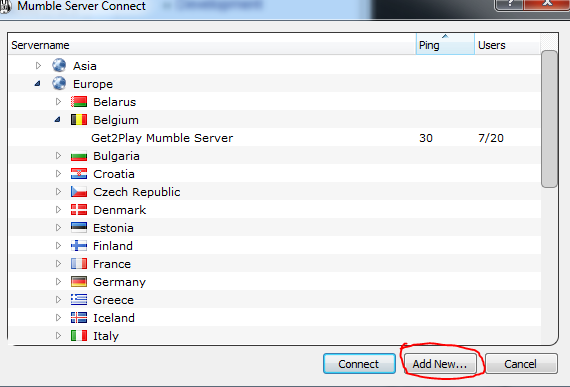 Step 6: Fill in the required information.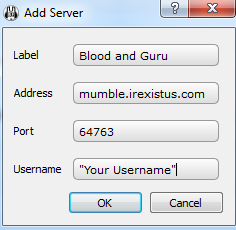 Step 7: Click your own name and press "Register" in the drop-down box. (Screenshot from google because you can only do this once)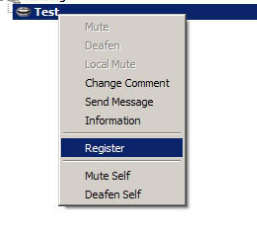 Step 8: You're ready to go!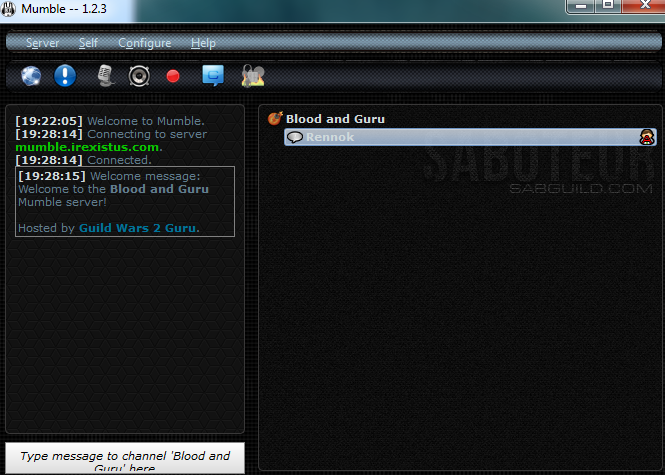 [/spoil]
If you want me to invite someone who isn't a member of GW2Guru it would be appreciated if you were to ask him/her to join our site.





The list

(behind the character name is the name of the GW2Guru member):
- Tin Dao (Alot)
- Malice Black (Malice)
- Trixh (Trixh)
- Rennok (Rennok)
- Gyromax (friend of Rennok)
- Bownbreaker (" ")
- Zaara (" ")
- Dark Predator (anselme25)
- Komatik (Helion)
- Psydrome (Psydrome)
- Ladriav (Ikelepte)
- Striker David (davadude)
- (yet to be determined) (Archress Shayleigh)
- Gwynn/Voox/Joon (Tommy's)
- (yet to be determined) (Icuic)
- Crazy Mikerwave (TheMikerwave)
- Alexandriea (Alexandriea)
- Azerneas (Saiguku)
- Milennin (Milennin)
- Phoenixflare / Phoenix Flare (PhoenixFlare)
- Charity Single (mitz)
- Zev Fiddlesticks (Choki)
- (yet to be determined) (Vulteer)
- Shadowzael (ShadowABCXYZ)
- (yet to be determined) (Censtudios)
- Spinnok Durav (Onijuice)
- Euphorias (Robsy128)
- Corinus (Corinus)
- Xunin
(Xunin)
- D is for Lysdexia
(bhavv)
-
-
-
-
-
-
-
-
Try to give me your character name before the Headstart begins because as you might understand, the forums could be quite desolate once it starts. If this is not an option, try to contact me in-game. Also, it would be greatly appreciated if you were to represent our Guild ingame.
Edited by Alot, 28 August 2012 - 04:40 PM.