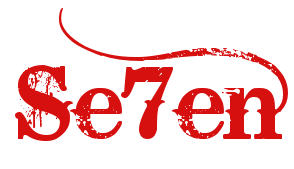 Introduction
Hello there! Thank you ahead of time for minimizing redtube to come and check out our recruitment thread, I promise it'll be nearly as enjoyable. So first, I am Outt(wave Hello) and somewhere in this thread, my co-GM Pryde will probably make an appearence(don't wave to him, just pretend like he's not there.)
After many months of waiting and looking into GW2, the community, and just such a polished game, we decided to bring ourselves over to a new MMO and (re)create Seven, from the ground up. I'll give a backstory of Seven and our experience down a bit more, but for now, just let the name coast through your mind while thinking of a nice serene ocean...with Sharks, maybe a Walrus. So, Pryde and Myself are again looking to fill up our ranks and get give it a good go at bringing Seven to the forefront of
Anvil Rock
.
Backstory/(In)Experience
Lets start with the experience and knowledge that Pryde and myself bring to the table, so you know what you're walking into and what type of mindset on leadership we'll have.
We both started off in the monster known as WoW(world of Warcraft to those living in a cave, no offense, I'm sure it's a wonderful cave.) We had both been playing for some time, 6+ years, myself since Early Vanilla, I'm not sure on him, anyway, we were both Officers in one of the larger guilds on the Eredar Server. My main duties in the guild was that of being the Raid Leader and much of the PvE aspects, in which I managed to turn a mostly PvP guild, into a very succesful Heroic Raiding Guild(succesful is subjective, but we were organized, on-time and progressive.) Pryde's main role was being the second leader in Raids, picking up when I couldn't, as well as managing much of the politics and recruitment in the game(in fact he even recruited me to the guild, best decision of his life, he got lucky, I will say...ahem.) So, with our powers combined...we...are...crap, how does that go again, oh right, we both bring different specializations to a balanced Guild.
But, you may say, we didn't operate the Guild in WoW...but oh ho ho, don't fret! After WoW became quite stale, we moved on. First with GW2 in-sight, but no release date out yet, we picked up Tera to manage our time, in which we first created
Seven
. I, as the GM, he again as the co-GM, we put our knowledge into practice and tried it on our own, with just 3 of us on the 2nd day of release. We built Seven into the most well-known and established Guild on the
Feral Valley
server, still up and running today, hovering around member cap(which albeit is only 300) we make sure to clean inactives weekly, so it has a very high active population(as much as it can in a slowly dwindling game like Tera, which is great, but also becoming stale.)
Anyway, we have first-hand experience of what comes with not only the awesomesauce figure-head power of being GM, as well as the down and dirty drama filled slap someone underneath that will inev. happen at some point or another, and Seven is still going strong on Tera, we're just focusing our attention towards the game we'd been waiting for, and allowing Seven to run and operate under those that stepped up and chose to remain.
Our Focus
We like to dabble in each and every aspect of an mmo, while it be PvE, Pv....oooh birdyyyyy, oh oh, sorry, focus, right, my bad. Yes, well, we're a PvPvEvWvWvEvP, in short, with what GW2 has to offer, we intent to enjoy each and every part. Wether it being organizing some guildies and friends for a World Event, or the same for a WvWvW match, maintaining a keep and sending out patrols or working together, combined with the politics and foreign affairs of alliances and other World enemies, we'll do it. We usually break down the hierarchy in that of specialized Officer roles, to divide up the work-load, because some people just ONLY wanna do WvWvW or sPvP, and that's completely fine, this is a guild based around activity, participation(even if just in GChat or on forums or helping others) more-so than on hardcore must be done attitude.
Why Anvil Rock? Fort Aspenwood?
That's where Eeny Meany Minie Moe got us. Actually, that's not too far from the truth. We basically had in our mind that we wanted a medium-ish pop server that wasn't largely established guild-wise yet. After browsing through the Server Poll post here, as well as Asuralabs for the Guild creations so far, Anvil Rock just seemed to fit, so, here we are, coming to take it over, it's so shiney ooooohhhh....and THEN we changed our mind
(I know, you'd think we were women or something complicated like that right?) No, really, one of our loyal members suggested Fort Aspenwood and well, here we are, simple as that, and laying down a foundation!
What Can we Offer?
Vent Server
Website (It's in-need of more polishing and some images)
Guild Advancement based on participation
Cookies, no milk, shoo getcha own milk!
Start from scratch with a bunch of new faces, get your feet wet and a chance to become a part of something new.
What do we Ask?
Social Security numbers required upon entry, possibly Birth Certificates sent to us as well(we'll play it by ear.) Ok 4real though...
Activity/Participation - this is the biggest aspect we look for. You don't have to be able to get to 80 in a day, or play in MLG, just show us you want to be a part of the guild
Vent - you don't need a mic, but to participate in any guild events, you need to be able to hear us
Respect - to both the guild and fellow peers. Trolling is fun, go for it, but be respectful about it(oxymoron I know) and just know what lines can/cannot be crossed, both in GChat, and Vent, and WC. We don't want to be that troll guild, but everyone likes to poke at some fun. I mean, even Zelda likes to troll Han Solo for not using Alienware on the enterprise, amiright?
That's actually about all we ask, we think it's quite simple, but it encompasses everything.
In Conclusion
...my English teachers would hate me for that, never end with "In Conclusion" to those of you still in highschool.
I'm a very laid back individual, Pryde is uptight, but we'll continue(shh don't tell him.) The both of us had a great deal of enjoyment starting Seven up in Tera, and hope we can bring the same feel and atmosphere over to GW2. While it's just a much more involving and polished game, we hope we can get a strong group of players to enjoy it with us. We have some coming from Tera, not sure exactly how much at this point since many are on End-of-summer-before-school-starts-and-life-ends-vacation, but that doesn't mean you won't fit in! We don't single out individuals, and the more effort you put in to the guild, the more you'll receieve from us. So please, speak up, come check it out, we have an open door policy most of the time, where you can come and go, and see if this is where you wanna stay. We find usually those seeking greener pastures, end of coming back to see that we really have so much to offer.
Don't let my corny jokes, or perpetual god-complex power-hungried ego scare you off! If you have any questions, comments, concerns, etc...I am always available on Facebook, Skype, checking here often, or on the website, I allow myself to be easily reachable, and aside from giving you my address to mail me letters, you play your cards right I'll give you a phone number...bow chicka wow
Thank You again,
Outt, Pryde, and Seven!