There are so many build editors around, so why make a new one? Well...
team builds
create builds with your friends over the internet
save and manage the builds on your computer
nearly all equipment and attribute effects being calculated
useful tools
free download
no ads
If you want that, you need paw·ned‹4›2 (paw·ned for 2), created by a team of developers and wikians (of the German wiki) over the past 10 months and tested by more than 30 testers.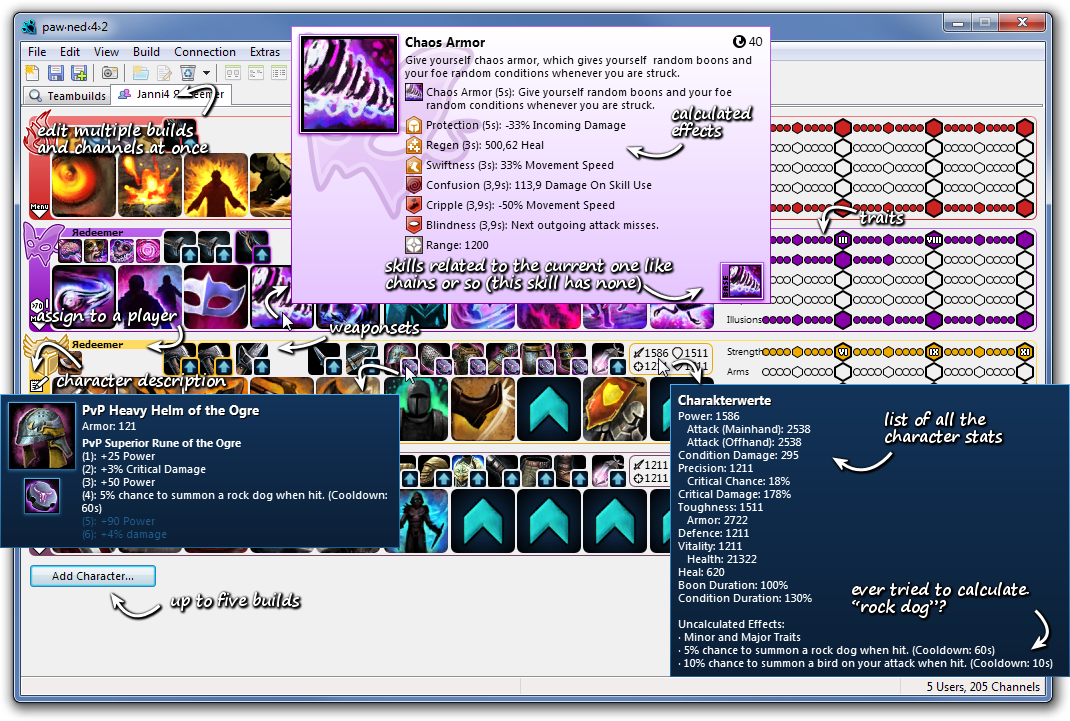 paw·ned‹4›2 in use. This screenshot was made from multiple ones.
So what's in? Here's the list:
Team builds: Create a team build offline on your computer, or with your friends in a channel on our server. Weaponsets, slot skills, traits, amulets and upgrades are synced across the users in a channel and directly affect damage, boon and condition values in skill descriptions. There is also a detailed list of each character's attributes.
Browser: Builds are saved in a subfolder of your Guild Wars 2 profile folder. You can open them as a document or load into a channel. The browser also provides you with options to rename or move files.
you·pawned: How to move builds from one computer to another and how do you give builds to other players without them vandalizing your channel? Well, that's why we created you·pawned. Just one click and your build is in the cloud and you are given a number so everyone can access it. There is also a history of received numbers.
Screenshots: Create a screenshot of your build by choosing from 3 designs.
Playlist Editor: Guild Wars 2 provides an interface for custom music. If you don't want to bother about filenames and file formats, then the playlist editor might be just for you. Simply drag and drop files and click save.
What are you waiting for? Oh, the download...
DOWNLOAD
(5.16 MiB)
It's an installer, but you can also extract it with some tools like 7-Zip.
As people might find EXE files suspicious, here's some info on the tool's background and its authors:
There is no interaction with the Guild Wars 2 client. And there won't ever be.
Some of the developers already brought you paw·ned². It gained popularity on Guild Wars Guru back in 2009.
The release of the German version had a news on Germany's biggest fansite Wartower one week ago.
We're of course checking the releases via VirusTotal.
I'm not entirely sure if this will run on Linux using wine.
We all hope you enjoy it and would like to hear your feedback.
Edited by numma_cway, 07 October 2012 - 11:32 AM.