20/10/10/10/20 [S/D]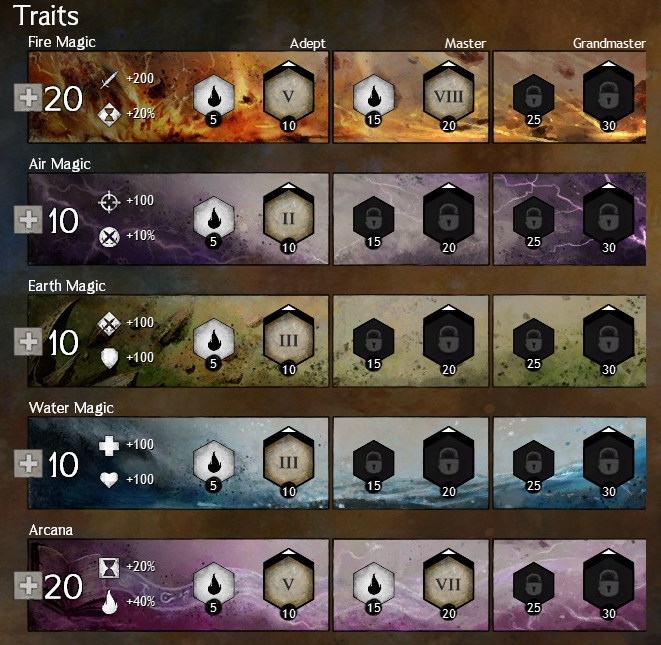 I was playing around with random builds after the last patch and found this to work pretty well in the new dungeon (Fractals). You will have a lot of endurance regeneration with it, allowing you to dodge a lot more than usual. Using this trait system will also allow you to switch your build to an auramancer with D/D for PvE roaming, if needed. If your team or situation requires a lot of support and maximum range attacks - switch to staff and modify your traits (for instance choose the staff AoE range trait instead of the scepter endurance regeneration trait).
For blast finishers you have Phoenix, Earthquake, Churning Eearth and Arcane Wave, if you choose to equip it. Feel free to modify your utility slots as it best suits your situation. For some reason Dragon's Tooth does not currently produce a blast finisher. The patch notes mentioned that the blast now correctly triggers at the spell location, not the player location, but when I cast it straight inside a ring of fire field - it doesn't produce a blast at all (This bug is confirmed, there is a thread about it the official forums - after it gets fixed you will have 4 blast finishers + Arcane Wave). Your earth and fire blast finishers will have an internal CD, so don't use the second one straight after your first one. It's better to switch attunements and use on the next attunement cooldown refresh.
Your main source of DPS will derive from the fiery sword elite. It's not a bad elite to have at all, and with the power/crit increase it's even better. This will be very useful against multiple mobs, allowing you to inflict AoE cripple and great AoE damage. And as most of the sword's attacks crit - you will inflict AoE burning as well.
The healing choice was interesting, I've never really used Ether Renewal as my main healing spell before, but it's actually very awesome and I plan to keep using it from now on. The buff it received is considerable and it's easily felt in combat. Especially when you are being snared and need to heal and escape fast. Since you can cast it while moving it will be hard for anything to slow you down too much, as each tick will heal you and remove a condition. In combination with Cleansing fire and the Water 5 spell - you will hardly have any trouble with condition removal.
I don't claim this build to be the best or even really good, but I sure found it fun to play, now after the evasive arcana dodge fiesta is over. If you have any suggestions for improvement and/or constructive criticism - feel free to express it!
Edited by Dusty Friday, 17 November 2012 - 03:06 AM.