Ferguson's Crossing is desperately in need of people! You may have noticed that I started a thread regarding our WvW match for the week, and it's shaping up to be a good one. We are the Bottom ranked server in WvW ranking. Our player base in miniscule, our WvW turn out is minimal, and our carebears are just as minute. But the people on this server are ones with the most server pride. Any one of us could transfer to a higher ranked server, but the ones who stay would rather make a home for our selves and make a difference in the standings.
What we have to offer.
We are the bottom ranked, least populated server in the game. Any addition to the player base will make a difference. Our commanders are beginning to share Voice Comms to better organize our WvW Defenders. Our guilds do show up and listen to the Commanders in Map chat. We have experience at fighting greater numbers, and preserving our own men. And most importantly, as of this posting,
THERE IS NO QUEUE FOR WVW ON ANY DATE AT ANY TIME
. I came from Stormbluff Isle where we had a 3 hour queue timer for any map. Here on FC, we can hop into the Eternal Battleground anytime we want with no waiting.
What we need.
Bodies. Even if you're just looking for a less populated place to farm Karma and do other PvE related things, this is what our turn out looks like on a saturday afternoon in Shelter's Gate during an event.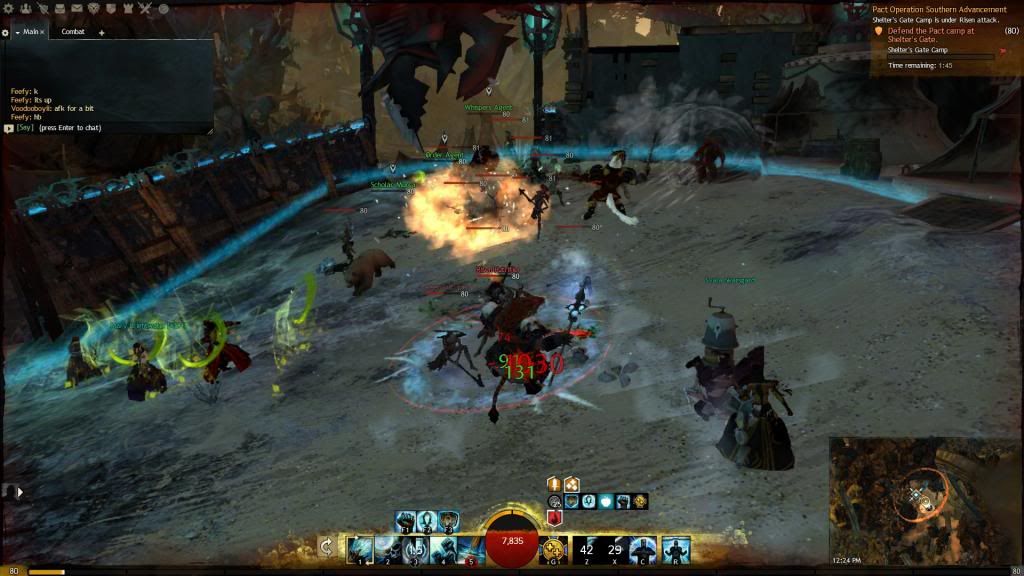 So please, help us in raising our rankings by raising our population. We have fight, dedication, and a helpful command structure. We're looking for more people so we don't have the Out-manned buff on every map, every day.