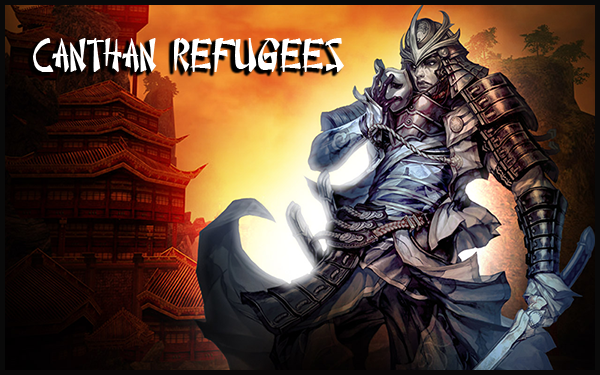 Welcome to our refugee camp!
Quick info
about how the guild was created:
Despite being a part of few guilds from the release of Guild Wars 2 I never had the luck to be in an everlasting guild free of drama. After last meltdown in my ex-guild, I decided to take things in my hand and create a guild that would suit my vision of what guild should be about.
When creating a name, I decided to add a piece of my love for Cantha into it. Cantha is a big continent in Tyria that hosted the Guilds Wars Factions. My definition of a guild is a friendly place where you can gather up, chit-chat about whatever you want and escape your reality. The truth is everyone has or had some problems in the real world and we all played games to get away from it. That's how I came up with the 2nd part of the guild's name. A guild should be a refugee place for all of us.
On another side, Cantha will eventually come back to life in Guild Wars 2 and what other way to celebrate it's release then bringing us back home
.
About the guild:
I've decided to open the gates to the camp for fellow players who are new to the game, who are GW veterans and those who want to be in a friendly helping way.
Some facts about the guild:
We're a new guild.

Placed in the Desolation server

Our guild tag is [TOGO]

We do not have nor we plan on creating a forum site

All the announcements will be places in the "Message of the Day" box

PvE oriented although if interested we can make organized teams for WvW and tPvP

We're into leveling alts, farming legendaries, trading, crafting and doing dungeon

We're Sylvari, Charr, Human, Norn and Asura lovers

Guild leader is a bit InSaNe. In a positive way.
What we're looking for:
Friendly, positive, a bit crazy folks

We're open for hardcore and casual players

New folks who still haven't settled down

Old folks who just want to chill

Guild Wars Veterans and Cantha lovers

GW2Guru/GW2 forum chatters

Anyone who has a feeling they want a relaxed place
Some basic rules:
Keep it positive and friendly.

Help each other.

Offer guidance to those who seek it.

No "drama-queens"

Arguments between two should be kept between private messages and not the guild chat.

Salute fellow guild-mates when you login

Don't be a stranger to us, we don't bite

We don't demand 100% representing, it's your game your choice
If you feel that this could be your guild of choice feel free to send me a mail/note/postcard on my forum profile or in-game by mailing me at:
King Arian
Edited by Nabuko Darayon, 24 December 2012 - 12:22 PM.