General Updating of OP
last update: 3/1/13
As I notice more things about the build, or people suggest changes that I then use or feel would be helpful, I'll add/alter the OP to reflect this, so you don't have to check any later posts to see changes I've made, and have the most current version at the top.
-----------------------------------------------------------------------------------------------------------------------------------------
MAJOR UPDATE: Changed traits, sigils, runes and other stuff due to Nov 15th Update, added further explanations too. The build now provides more damage from you and your allies, has more balanced stats and survival built in than before. Basically more might for you/allies, more vulnerability for foes.
With this MH/OH set up I find fights more fun; I now find I can just use active blocks and stay on target and not having to roll away, slowing DPS, all depending on your own reactions. The build also doesn't seem to run out of steam as bosses get a higher level (fractals) and hit harder. With perma protection from hammer or other souces, 66% of damage still gets through, most bosses etc that can 1-shot or 2-shot you down only do so periodically, so if you notice the animations, any hit whether 100 damage, 100,000 or KD spam, daze or huge aoe can still be mitigated if timed correctly.
Build:
http://gw2skills.net...yymlLLZWLIGFMJA
Sceenshot of stats: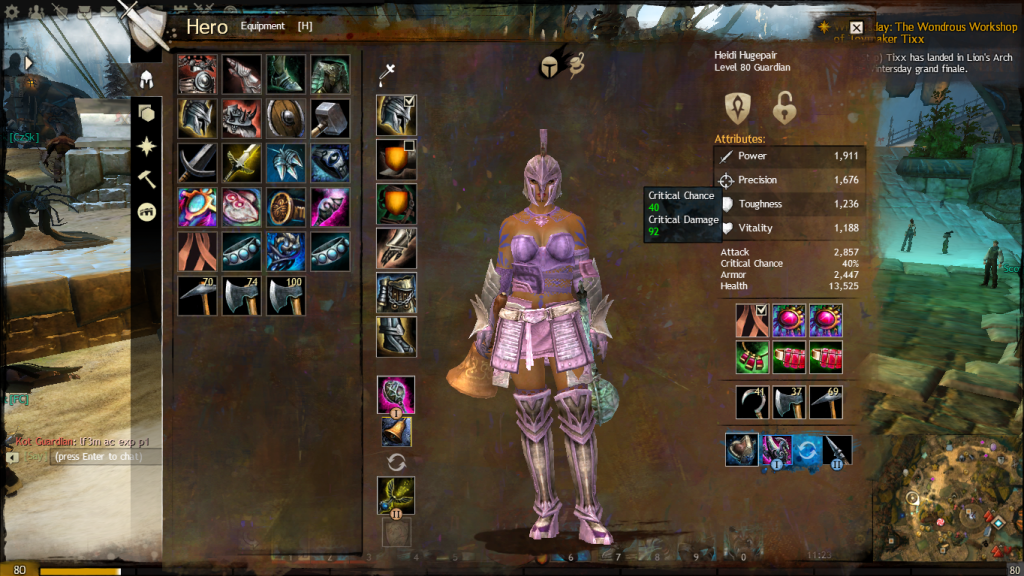 Some keys parts of the build:
F1 (VoJ) spam
: Upon combat start and every kill, it now gives you:
AoE Blind + 3 stacks of vulnerability + 5 Second burn + 3 Stacks of might to you and nearby allies which also heals (via AH trait) yourself for each person who receives a boon from you (boons put on yourself included)
Read the bit above again, it's
awesome
, all that from one key press, and it can be repeated on every kill, as fast as you can press the button with no internal cooldown.
I know people used to say "lol f1 spam is for levelling" but now it's just too good not to use.
Example: When farming DE's like penitent or shelfter in Oor, even if I leeroy into a large group and take lots of damage, with all the other people around spamming F1 heals me straight back up with no intteruption to using the AoE auto attack on staff, plus you've probably just stacked 25 might onto yourself and everyone around you. Since the update you probably stacked a lot of vulnerability too if you can hit the F1 key quick enough meaning the veterans/champs left over go down quicker.
I've seen others say it, but I'll say it again, map F1 to a mouse key. I have F1 and Skill 1 mapped next to each other on my mouse so I can press them both at the same time.
Every time you critical hit, you and allies gain might, which heals you
(added in update)
Every time you block you gain more might, which heals you
(more blocks now available in update)
You have 7 (ish) blocks available, 4 skills on your bar, one passive aegis every 40 secs, one when your health reaches 50% and one emergency if you hit the F3 key.
With all this defense (which also buffs your damage and heals you at the same time remember) I changed the heal skill to shelter as suggested by others, due to fact I don't need the bigger heal from the signet and I'm not using a trait to reduce signet cooldown anymore. This can block an infinite number of hits for 2 seconds, even more might stacks and heals. Try using the heal skill, even if you don't need the heal, in CoF dungeon when one of the guys with a flamethrower attacks, you'll see the word "blocked" rapidly spammed under you and the might stack boon counter shoot up.
Focus Skill 4 now applies 3-6 stacks of vulnerability to a foe
(could be more)
Focus skill 5 now grants stacks of might to you when you block, and can trigger AoE retaliation if used after mace 2

Armour/Trinkets/Weapo

ns
Amour:
1x Valk on the chest, 5x Berserkers on other pieces
Trinkets:
Berserker amulet, 2x berserker rings, 2x bersereker earings. Cavalier backpack with a ruby orb.
Weapons:
Primary set - Berserker Mace, Berserker Focus (Focus added in update)
Secondary set 1- Berserker Staff (for AoE on multiple foes)
Secondary set 2- Berserker Scepter (for bosses, single foes or enemies requiring maximum range of 1200)
Runes and sigils
Runes:
6x Rune of soldier so your shouts also remove conditions on you and allies, plus increased durability for you.
or...
2x Superior rune of water
2x Major rune of water
2x Superior rune of the monk
for +40% boon duration, only use these if you're confident you can survive in a high conditions spam environment I've done TA explorable dungeon now several times with no personal condition removal other than Focus skill #4 and "Save yourselves!" for allies, with no problems.
or...
6x Superior rune of Altruism
Due to guardians lacking reliable source of fury from themselves, this rune seems quite useful, as it adds some more might to yourself and allies too, so more damage. Both of these additional boons will also heal you through AH, making the heal skill a stronger heal in itself as well as adding more healing power stats.
Sigils:
MH weapon (mace): Superior sigil of force or Superior sigil of battle though I may drop the sigil of battle as if there's someone else pumping might to your party in a dungeon I've be hitting the maximum number of stacks which is a waste.
OH weapon (focus): Superior sigil of accuracy
Staff: Superior sigil of bloodlust to get 25 stacks quickly with the AoE auto attack.
Scepter: Superior sigil of force for bosses as some you cannot achieve a critical hit.
Trait choices
Radiance line
15 points for renewed Justice so you can spam the F1 skill after every kill.
Adept: Blind Exposure 3 stacks of vulnerability every time you blind a foe, using the f1 key or focus #4
Valor line
30 points to max critical damage and get the most Biig Domages!!!
tm
. As a side benefit, it is also our toughness trait line, so not a glass cannon. More good minor traits here too (maybe not the master one), might when you block, aegis at 50% health (another auto block).
Adept: A buff to an offensive attribute using a defensive attribute? the best of both worlds.
Master: +5% damage with my main weapon of choice
Grandmaster: Altruistic Healing, I get healed every time I grant a boon to myself or an ally. As a guardian, this happens a lot, and even with nearly no healing power stat it adds up to quite a good amount of health coming back. A few of examples are:
1. The symbol from the mace or any other weapon for every pulse on every person affected.
2. Every pulse from the staff skill #4 empower on a heal for each ally.
3. "Retreat" and "stand your ground" shouts give 2x heals for each person
These are not all ways to trigger AH, far from it, and on their own, they don't heal for much, but in practice when combined they become significant enough to choose this trait over others at GM level.
Honor
20 points: Some good minor traits, gain vigor on critical hit I find it very useful to refill my endurance bar quicker, also heals you via AH. Dodge rolls heal you and allies, another good one.
Adept: Shouts recharge faster, most of the time I have 3 shouts, though I do swap them sometimes for other utilities, there's usually 2 at least on my bar.
Master: Empowering might, causes my critical hits to grant might to me and allies, which again, heals me via AH trait,
Virtues
5 points to unlock more boons when activating F1 F2 or F3. F1 is recharged every kill, so might is stacked every time also, which also heals you for each ally affected.
When I get in trouble I trigger all 3 virtues and then use the elite skill to recharge them, doing so also grants boons, which with this minor trait and AH, heals you directly as well.
Some other notes
I use staff in dungeons for multiple mobs or scepter with focus for long range single targets.
Sword can be used instead of mace if you wish, as it has another blind and a block skill too, however you drop the 5% damage buff from traits, and I prefer the bigger hits the mace shows rather than multiple small packets.
I made this build to play as DPS but with survival too as I PuG a lot. Mace seems to hit slow and hard, sword seems smaller hits but more of them, and mace also has inherent defense and healing built in, so mace it was. Focus seems to now add even more attack damage.
Thought I would mention if you start a fight by using mace #2 (healing symbol) then use focus #5 you trigger area retaliation, which also heals you a little as a bonus.
TL;DR I am absolutely loving the build now, DPS guardian that buff your allies damage to the maximum.
Edited by chullster, 03 January 2013 - 11:30 AM.