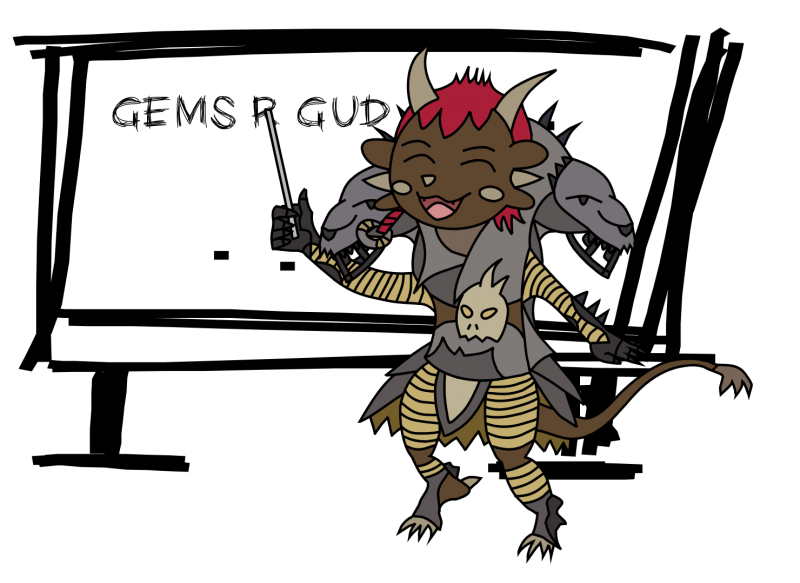 Abstract
Would someone get Anette-chan out of here?! We don't need her tomfoolery now. Shoo you damn charr, go back to Ascalon!
Gems are bad 'kay? That's what I always say. And thanks to Cube's assistance and her (his?) Survey, I'm going to get to the bottom of this silly business. Her (his?) data will prove most invaluable. After weeks a whole day crushing data I am ready to present it to the world. Be free to partake in the discussion and tell me what you think.
The survey itself is a better attempt at trying to understand our habits with the Gem Store and try to figure out the data that ArenaNet herself (Anette-Chan) is withholding from us. And maybe take a good wack at trying to figure out what exactly is going on in their heads. Some insight could do wonders in the midst of all this insanity...
Without further ado, I give you... The Gem Store Survey! In Five Seconds... *pling*
Our Sample
A good sample is important, and without a doubt this survey managed to capture a decent picture of the overall state of the Gem Store.
Precisely 359 gamers and 1 dummy* answered this survey. Gender wise, the sample included 309 male gamers and 51 female gamers (85.8% and 14.2% respectively). Age wise, a majority of the sample was included in the "16-24" and the "25-34" age groups (160 and 135 subjects respectively, 44,4% and 37,5%) with the remaining subjects distributed between the 35-44 and the "45-54" age groups (36 and 22 subjects respectively, 10,0% and 6,1%). The outliers were considered for statistical accuracy, distributed between the "under 16" and the "55 and above" age groups (2 and 5 respectively, 0.6% and 1,4%). "16-24" was the Mode and "25-34" the Median.
For statistical accuracy, the sample was split in two: those who have bought and still buy gems, and those who have never bought gems. Using the Gold-Gem exchange is not considered as a Gem purchase for the sake of this survey, as I only considered the cases where real money was actually spent. As a result, 124 cases (34,4%) were discarded in regards to where they spend their Gems, in virtue of the white knights saying that it counts as "using resources within the game". It also worth pointing out that 57 of these cases (43,5% out of the 34,4%) didn't report where they were spending their Gems, since they never acquired any. This change will allow a better clarity determining how the sample spends their Gems bought using real currency.
For better clarity, and thanks to the feedback I obtained, I condensed the amount of Gems purchased into intervals. The original survey had fixed Gem values obtained on a monthly basis, and it turns out most subjects answered it on a rounded down approximate figure. The data was interpreted based on that estimative.
The intervals were: Bellow 800/Stopped Buying; 800-1599; 1600-2799; 2800-3999; 4000-5999, 5000-7999 and Above 8000.
Also worth pointing out that survey asked for average numbers of purchased Gems on a monthly basis. If over the course of four months a subject purchased 1600 gems, the average would be included in the "Bellow 800 Gems/Stopped Buying". This estimate was also obtained from feedback.
*- The dummy being a friend of mine, who answered the survey while it was being processed
Does anyone even buy Gems?
Surprisingly enough, a valid chunk of the sample purchased Gems in the past or actively buys Gems. What is not surprising is number of Gems bought. Of the 235 subjects who bought Gems, about 51,1% have bought "Bellow 800" Gems on a monthly basis or stopped buying them altogether. 20,4% and 11,1% bought a number of gems between "800-1599" and "1600-2799" respectively. The remaining 17,5% were somewhat evenly spread in terms of the number of Gems bought above 2800 Gems.
What about the ones that don't buy Gems?
Of the reasons given as to why the subjects didn't buy gems, of the 125 sample 59,2% stated that the were content in exchanging their gold for Gems. 15,2% stated that they think Gems are too expensive, 12,8% is morally against Gems, 5,6% said that there's nothing of interest in the Gem Store and 7,2% gave other reasons.

Most of the other reasons that were provided were in the lines of dissatisfaction with the state of the game, dissatisfaction with the Gem Store, or the belief that they already had given enough money towards the game in their initial purchase. These valiant soldiers are voting with their wallet.
Is the age group a determinant for those who buy Gems?
This was one of my first questions when I ran over this survey's data. Is ArenaNet scamming innocent kids out of their lunch money or their parent's credit card?

Sadly that is not the case. With the average Guild Wars 2 player being slightly above the age of 16 with a modest share of older gamers around and above the age of 24 (Mean of 1,81 between the sample for age groups), I can safely assume ArenaNet preys on college students and graduates' wallets. Those bastards…

The data also shows a slight tendency of older gamers to spend money on gems but this might be a skewed correlation, due to the uneven sample, but it seems older gamers are more willing on spending money on gems. Even if the significance is small (0.119 Pearson) it is still there.

For those who buy gems, the correlation with the age group when compared with the amount of gems purchased is even lower. Age at first glance seems to have little influence on the amount of gems purchased (0.083 Pearson), and this backed up as the case by case shows:
Every subject "Under 16" has never bought Gems.
48,9% of the subjects between ages "16-24" bought a number "Bellow 800" Gems. A cumulative of 34,7% bought between "800-1599" and "1600-2799" Gems (21,7% and 13,0% respectively). Number of subjects is 92.
51,5% of the subjects between ages "25-34" bought a number "Bellow 800" Gems. A cumulative of 34,6% bought between "800-1599" and "1600-2799" Gems (25,7% and 8,9% respectively). Number of subjects is 101.
54,5% of the subjects between ages "35-44" bought a number "Bellow 800" Gems. A cumulative of 13,6% bought between "800-1599" and "1600-2799" Gems (4,5% and 9,1% respectively). 18,2% bought "4000-5999 Gems and 9,1% bought "Above 8000" Gems. Number of subjects is 22.
58,8% of the subjects between ages "45-54" bought a number "Bellow 800" Gems. A cumulative of 35,2% bought between "1600-2799" and "4000-5999" Gems (4,5% and 9,1% respectively). Number of subjects is 17.
Each subject of age "55 And Above" bought a number of Gems between "Bellow 800", "2800-3999" and "Above 8000". Number of subjects is 3.
A bigger sample of gamers over the age of 34 would be required for a more accurate prediction, but it does seem to prove a slight willingness for older gamers to spend more on gems. It is worth noting that all subjects who bought an amount of Gems "Above 8000" are in the upper echelon of the age groups.
Where do they spend their Gems?
I can tell you this much, it was a nightmare to crush multiple choice data… My fingers hurt.
Of the sample of 235 subjects, only 32,8% actively buys Gems to exchange them into gold. 63,7% of these subjects buy a number of Gems above 800, with the remaining 36,4% buying only "Bellow 800". For their actual spending habits we would need another survey but this shows the reason as to why the Gem exchange rate is soaring as high as it is.

Of the sample of 235 subjects, only a measly 3,4% actually spends their Gems on Boosters. Their actual use is a testament of their overall failure as this was one of the biggest points of dissatisfaction from the anti-Gem Store advocates. This could mean that the subjects don't find Boosters worth spending in. More surveys are required.

Of the sample of 235 subjects, only 22,6% actively buys Town Clothes and 29,8 buys Armor Skins and cosmetics. What is worth mentioning is that, most of the discarded data of subjects who didn't buy Gems also mentioned that they spent the gold converted Gems so they could buy Town Clothes and Armor Skins. This could mean that people are circumventing from actually spending real money on these sorts of goods.

Of the sample of 235 subjects, only 14,0% actually invests in things like Dye Packs, Finishers and other assorted goods. With a good deal of finishers (and quite good ones) being obtained from PvP and Dyes being a common commodity, this is a no brainer. Regarding less cosmetic things, like Cox Boxes and Black Lion Chest Keys, only 22,6% invest in these sort of things. If you were wondering why ArenaNet is trashing us so hard with low drop rates while keep adding more and more rare and exciting items in these boxes, it is safe to assume it is because they aren't happy with these numbers… I say we burn the Cox witch!

Of the sample of 235 subjects, a grand total of 40,9% invests in Services (Name change, cosmetic change, Black Lion Salvage Kits, etc.). As for Upgrades, a whopping 76,6% invests in things like Bank tabs, Bag tabs and Character slots. T

his reveals two things: one, the subjects are more willing on spending Gems on quality of life goods rather than cosmetics, exactly as we all thought and two, this means that a great deal of development is thrown at cosmetics that the subjects aren't actively buying.
Final Thoughts
I can almost see people lining up to twistedly defend ArenaNet and tell me that this data isn't valid or something. Well, I crunched these numbers myself with a calculator and it made a smiley face, but if anyone wants to check it out themselves, I'll be more than glad to share with you the database. I used IBM SPSS in case you are wondering, and went to a great deal to avoid posting Descriptive Statistic Tables than nobody could understand.

But what can I say about this data? Well, for one, people are cheap as they are avoiding at all costs spending much on the Gem Store. But what is more disturbing, is that people are spending the equivalent in Gems as if the game was subscription based.

If this data is correct… Then ArenaNet is receiving in sheer Gem Store revenue at least half as much income as if they were pushing a subscription based model! And worst of all, we are NOT receiving content that justifies this revenue! If we don't consider the sheer amount of time put into making Gem Store cosmetics that is. What's worse is that most of them aren't even spending their Gems in cosmetics but in quality of life goods!

ArenaNet must know this, as they have this sort of data more reliably available than I do, and yet they continue to invest time and effort on a Gem Store that is not reliably attracting Gem buyers. What's worse, they are actively dissuading Gem buyers with ludicrous Cox Boxes that have a great deal of chance of giving out nothing of value!

You can't ignore this data anymore, or what I've been saying all along. ArenaNet has to wake up!
The End
.... Gmr Leon is silly.
Edited by Desild, 12 June 2013 - 08:26 PM.